Dr. Linda Prieto (center), executive director of Upward Scholars, joins staff members and clients who are adult immigrant students from low-income households on a tour of Berkeley City College.
Fund For Shared Insight | June 13th, 2022
---
The following is the latest post in our continuing Listening for Justice series where we highlight the essential role of listening and feedback in the social sector. Our goal is to hold up BIPOC leaders centering the voices of people and communities most harmed by structural racism and other systemic inequities — and better understand how the daily work of listening provides a foundation for the most impactful racial justice work.
Along with attending school as she grew up, Linda Prieto worked alongside her parents, immigrants from Mexico, in the agriculture fields of California's San Joaquin Valley, picking and packing fruit and vegetables in all seasons. The heavy watermelons were the toughest to harvest, she recalls, and the jalapenos made her fingers tingly and her eyes burn. She would collect wild spinach from the side of the road with her mother to help put food on her own family's table.
Still, Prieto's parents taught her and her siblings "to pay attention beyond yourself, focus on community, be aware of what's around you and how you can be of service."
Able to speak English and Spanish fluently, Prieto says when she was out with her family, her mother would nudge her if she noticed anyone who needed a translator, and Prieto says she was proud as a young child when she started recognizing when and how she might intervene on her own.
"I had developed a sense both of responsibility for others and knowing how to humbly ask what they might need or want in the moment," she says. These are skills that serve her well today as executive director of Upward Scholars, a California nonprofit offering education and career-development opportunities to adult immigrants from low-income households.
After earning degrees at Stanford, Harvard, and the University of Texas, Prieto put her education and cultural studies doctorate to work in teaching, policy-making, and curriculum development. A single mother, she left Texas to return to California where she began her work in the nonprofit sector. After serving on Upward Scholars' board for a short time, she applied for the open position to head up the organization.
She got the job, describing her plans to lead "in a way that's respectful, with a sense of urgency and humility, hearing first from our adult students when decisions are being made."
From the start, she held open office hours, encouraging students to just walk through her door and share what was on their mind. Later the organization added questions to the program registration forms, asking students what careers they wanted to pursue and what barriers might be in their way.
In response, Upward Scholars added programs, including NannyUp, a professional-development program for childcare providers, ¡Habla Más!, which trains students to serve as paid language coaches, and  BusinessUp and BusinessPro, which train students to run their own businesses.
When the pandemic began, Upward Scholars sent surveys to their students, learning how so many were struggling financially and in their jobs. In response, the organization created a website listing resources and launched a fundraising campaign to make emergency money available to families, a practice it has continued. 
Prieto also started hosting informal, online sessions, called Plática Entre Familia (Conversations Among Family), where students would speak in Spanish about what they were experiencing. Listening to the struggles people shared, she also hired a chaplain to join the calls, start his own every other week sessions, and provide one-on-one counseling as needed.
The staff of Upward Scholars keeps an ear to the ground, too, she says. During a regular feature of their weekly meetings called Challenges and Successes, staff members share stories from students, like about health issues they face or their experiences applying to transfer to four-year colleges.
"We are listening to what students are telling us, doing it organically because it feels so integral to what we do," Prieto says, adding that Upward Scholars is also creating more opportunities for more formal listening and feedback practices.
The organization is diversifying the composition of its governing board, including by adding former students. A new strategic plan — designed with student feedback through surveys, focus groups, and interviews — calls for the creation of the Alumni-Student Ambassador Council, which will play an advisory role to the organization. And Upward Scholars is about to participate in Listen4Good, a capacity-building program for nonprofits making organizational, programmatic, and operational change based on client feedback.
Says Prieto: "I have been in plenty of spaces where I am the only person who looks like me and now I am serving at an organization where so many people do, and I know that each one of us has a story to tell that must be respected and heard."
---
More About Dr. Linda Prieto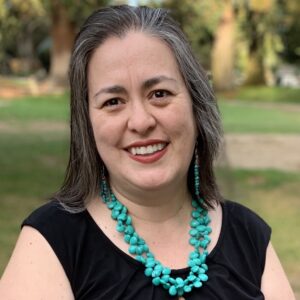 As the daughter of immigrants who left México to give their children a better life, Dr. Linda Prieto grew up working in the agricultural fields of the central San Joaquin Valley in California, but her heart was in the classroom. In second grade, her teacher was the first person she ever heard say the word college – until that point in her life, Dr. Prieto didn't know anyone who had more than a sixth-grade level education. But like her parents, she too believed that education could break the cycle of poverty. A belief in education drove her to earn her Bachelor's degree in sociology from Stanford, a Master's degree in education from Harvard, and a Ph.D. in education from UT Austin. She began her work in the nonprofit sector as vice-president of programs at ALearn, a Santa Clara-based math and college readiness program for underserved students. In addition to serving as Executive Director of Upward Scholars, she is raising her son to be just as excited about learning and service as she has always been.