Feedback Labs | June 8th, 2022
---
Véase más abajo para la traducción.
In September 2021, Feedback Labs launched its first-ever Training of Trainers (ToT) program. Four members of National Democratic Institute's (NDI) Mexico team were trained to deliver the Feedback Crash Course to public officials of Tamazula, Mexico who were preparing to collect citizen feedback to inform the city's municipal plan. The Feedback Crash course is a fast-paced, hands-on training designed to equip participants with the knowledge, skills, and tools to implement a closed feedback loop. 
We recently had a chance to check back in with Alexis Guillén Monterrosa from the NDI Mexico team to hear about his experience with the Training of Trainers program and the progress that the government of Tamazula is making towards its goal of incorporating constituent feedback into its municipal plan.
Feedback Labs: Tell us about your work at NDI Mexico. What role do you think citizen feedback should play in the work you and your local government partners do?
NDI Mexico: At NDI Mexico, we are promoting the use of strategies and methodologies that help local governments transform the way they serve and deliver for citizens. We do this collaboratively with civil society to promote a model of responsible, responsive, and inclusive governance that is based on the principles of transparency, accountability, citizen participation, and innovation. With our current project, we are supporting municipalities that have committed to move away from an outdated governance model of making major public decisions behind the backs of those they represent without consultation and feedback. It is here that the feedback methodology makes complete sense, as it helps to materialize these objectives that we seek and serves to demonstrate to our local partners that listening to the community in decision-making is not only the correct thing to do, but it is also feasible and strategic to obtain more legitimate and effective results.
Feedback Labs: Tell us about your experience participating in the Training of Trainers program and delivering the Feedback Crash Course to public officials in Tamazula. What were you most excited about? Where did you see the greatest potential for impact?
NDI Mexico: We started with the premise that the best way to learn something is to teach it. In this sense, the NDI team took on the challenge of participating in the Training of Trainers program with the aim of improving our understanding of the feedback methodology, and adapting it to the reality of Mexico and the contexts and needs of our local partners from the municipal governments and state congresses. 
Since then, we have delivered the course to eleven public servants in Tamazula, municipalities in Guanajuato, and the state of Guanajuato's congress. As a result, we have had the opportunity to improve our strengths and capacities to impart the Feedback Crash Course and better understand the methodology. What excites us is that through this resource, we are able to influence public servants to show them that there is no need to fear citizen participation; that feedback, when properly designed, triggers virtuous processes of deliberative democracy and rewards them by rebuilding the citizen trust in democracy and its authorities. That is what we are seeing in Tamazula and Guanajuato.
Feedback Labs: What did you hear from the public officials that participated in the Crash Course? What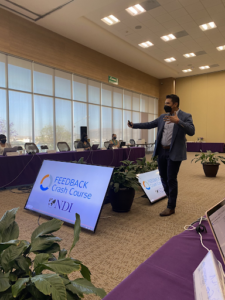 did they learn from the experience?
NDI Mexico: When NDI Mexico began its collaborative relationship with the Tamazula government, they were about to start preparing its Municipal Development Plan, or government programs, for the next three years of Mayor Lalo Gutiérrez's administration. The Feedback Crash Course was offered to the Tamazulense government to design and execute a process that would allow citizens to be involved in defining the objectives, strategies, policies, and lines of action. 
After the Feedback Crash Course, the Directorate for Citizen Participation decided not only to promote the collection of information, but also open a dialogue with the citizens to capture their most urgent interests and needs in the government plan. The hope is that this will set a precedent: to stimulate citizen participation through public consultations as an effective procedure for the design and formulation of future development plans. This process would also serve to trigger co-responsibility, organization, and community participation in municipal public affairs. Crucial for all of this was the feedback methodology.
Feedback Labs: How have public officials engaged their constituents in providing feedback since the Crash Course? What insights emerged from that process? How do the public officials in Tamazula plan to close the feedback loop?
NDI Mexico: A citizen feedback process was designed in conjunction with the head of the Citizen Participation Directorate, Betsy Vivas and others in the municipal administration.
Two dialogue methodologies were used: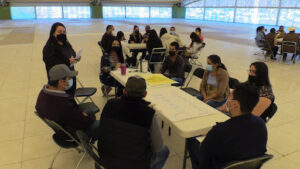 Focus groups with representatives of the residents of the six municipal delegations of Tamazul

a to create free and horizontal spaces for dialogue to capture their feelings, thoughts, and identify their concerns and needs as inhabitants of Tamazula.

The

Citizen World Cafe

was created, which serves to generate structured conversations with residents of the municipality interested in sharing their knowledge and experience on the various problems of Tamazula and their proposed solutions.
All the obtained information was summarized by public servants and is being processed for it to be integrated into the Municipal Development Plan that will be finalized and presented in a Town Hall Meeting in May 2022.
Feedback Labs: What's next for the Feedback Crash Course? How does NDI Mexico plan to continue using this methodology in your work?
NDI Mexico: Since NDI Mexico has been implementing the Feedback Crash Course with local governments, we have identified additional municipal authorities that have the interest and are willing to make citizen participation effective. We found that, despite some exceptions, there are already more governments that consider it necessary to include citizens in public affairs and obtain their feedback to build more legitimate, robust, and effective public policies. What is needed, in many cases, is the support to overcome the fear that these processes will become chaotic or get out of control. What is missing is knowing how to design feedback processes in an orderly, methodical, and meaningful way. The feedback methodology helps fill that need. The Feedback Crash Course provides not only the know-how, but also examples that inspire and motivate governments to take that step with greater confidence and security. At NDI Mexico we hope to replicate more feedback exercises in Guanajuato and other municipalities so that dialogue, co-creation, and collaborative work between citizens and authorities become customary in Mexico and, if possible, in the other countries of the Latin American region.
---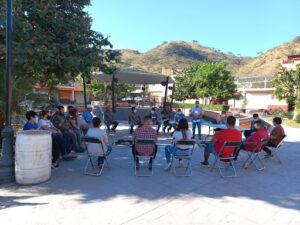 Usando la Retroalimentación para Informar a la Planeación Municipal de Tamazula, México
¡En Septiembre 2021, Feedback Labs lanzó por primera vez el programa llamado "Training of Trainers (ToT)"! Cuatro miembros del equipo del Instituto Nacional de Democracia (NDI) México fueron capacitados para poder impartir el curso "Feedback Crash Course" a funcionarios públicos de Tamazula, México, los cuales se preparaban para recolectar retroalimentación para informar el plan municipal de la ciudad. El "Feedback Crash Course" es un curso de ritmo rápido, enfocado en la práctica que está diseñado para equipar a los participantes con el conocimiento, las habilidades y las herramientas necesarias para implementar un ciclo de retroalimentación cerrado.
Recientemente tuvimos la oportunidad de comunicarnos con Alexis Guillén Monterrosa de NDI México para escuchar sobre su experiencia con el programa "Training of Trainers" y el progreso que el gobierno de Tamazula está haciendo con respecto a su objetivo de incorporar la retroalimentación de sus constituyentes dentro del plan municipal.
Feedback Labs: Cuéntanos sobre tu trabajo en NDI México. ¿Qué rol crees que la retroalimentación puede y debería tener en el trabajo que tú y tus socios del gobierno local hacen?
NDI México: Desde NDI México estamos impulsando el uso de estrategias y metodologías que ayuden a los gobiernos locales a transformar la forma en que sirven y crean valor público para la ciudadanía, pero en clave colaborativa, es decir, mediante el trabajo conjunto con las fuerzas vivas de la sociedad civil para promover un modelo de gobernanza responsable, responsiva e inclusiva, basada en los principios de la transparencia, la rendición de cuentas, la participación ciudadana y la innovación. Con nuestro actual proyecto, nos interesa, entonces, apoyar a aquellas municipalidades que han asumido el compromiso de no seguir con el modelo caduco de tomar las grandes decisiones públicas a espaldas de sus representados y sin ninguna consulta y retroalimentación de la ciudadanía. Es aquí que la metodología de "feedback" cobra total sentido, pues ayuda a lograr materializar estos objetivos que buscamos y sirve para demostrar a nuestros socios locales que escuchar e involucrar a las personas en los procesos de toma de decisiones no sólo es correcto, sino que es factible y estratégico para obtener resultado más legítimos y eficaces. 
Feedback Labs: Cuéntanos cuál fue la experiencia que obtuviste al participar en el programa "Training of Trainers" y al impartir el "Feedback Crash Course" a los funcionarios públicos en Tamazula. ¿Qué fué lo que más te emocionó? ¿Dónde fue que identificaste un mayor potencial de impacto?
NDI México: Partimos de la premisa de que la mejor manera de aprender algo es enseñándolo y explicándolo a otras personas. En tal sentido, como equipo de NDI asumimos el reto de participar en el programa "Training of Trainers" con el objetivo de mejorar nuestro entendimiento de la metodología, e incluso adaptarla a la realidad de México y los contextos y necesidades de nuestros socios locales de los gobiernos municipales y los congresos. Luego, gracias a la capacitación que ofrecimos a los servidores públicos de Tamazula, y los siguientes que dimos en el municipio de Guanajuato y el Congreso del estado de Guanajuato, hemos tenido la oportunidad de mejorar nuestras fortalezas y capacidades para impartir el Feedback Crash Course y comprender mejor la metodología. Lo que nos entusiasma más es que mediante este recurso estamos pudiendo incidir en los servidores públicos para mostrarles que no hay que temer a la participación ciudadana; que la retroalimentación, cuando se diseña adecuadamente, detona procesos virtuosos de democracia deliberativa y les retribuye en la reconstrucción de la confianza ciudadana en la democracia y sus autoridades. Eso es lo que estamos viendo en Tamazula y también en Guanajuato.
Feedback Labs: ¿Qué fue lo que escuchaste de los funcionarios públicos que participaron en el "Crash Course"? ¿Qué aprendieron de dicha experiencia?
NDI México: Cuando NDI México inició su relación de colaboración con el gobierno de Tamazula, éste estaba por iniciar la elaboración de su Plan Municipal de Desarrollo (PMD) o programa de gobierno para los próximos tres años de la administración del alcalde Lalo Gutiérrez. Así, el Feedback Crash Course fue ofrecido al gobierno tamazulense para diseñar y ejecutar un proceso que permitiera involucrar a la ciudadanía en la definición de los objetivos, estrategias, políticas y líneas de acción para el desarrollo del municipio. Sin embargo, en esta oportunidad y tras el Feedback Crash Course, la Dirección de Participación Ciudadana decidió no sólo impulsar la recopilación de información, sino abrir un diálogo con la ciudadanía para plasmar en el plan de gobierno sus intereses y necesidades más urgentes. Y es que a partir de este ejercicio se procuró sentar un precedente: estimular la participación ciudadana mediante consultas públicas como un procedimiento eficaz para el diseño y formulación del plan de desarrollo, pero que además sirviera para detonar la corresponsabilidad, la organización y la participación comunitaria en los asuntos públicos municipales. Para todo esto fue crucial la metodología de retroalimentación.
Feedback Labs: ¿De qué manera los funcionarios públicos han involucrado a sus constituyentes para brindar retroalimentación desde el "Crash Course"? ¿Qué conocimiento surgió de ese proceso? ¿Cómo planean los funcionarios públicos en Tamazula cerrar el ciclo de retroalimentación?
NDI México: En conjunto con la titular de la Dirección de Participación Ciudadana, Betsy Vivas, y otras áreas de la administración pública municipal, y con asistencia técnica de NDI México, se diseñó un proceso de retroalimentación ciudadana sustentado principalmente en metodologías de inteligencia colectiva que dieran la pauta para abrir un diálogo entre ciudadanía y autoridades. Para ello, se emplearon 2 herramientas metodológicas: 
Grupos focales con representantes de las y los vecinos de las seis delegaciones municipales de Tamazula, y con los cuales se construyeron espacios libres y horizontales de diálogo para captar el sentir, pensar y vivir de las personas e identificar sus preocupaciones y necesidades más sentidas como habitantes de Tamazula. 

El

Word Café Ciudadano

sirvió para generar conversaciones estructuradas con vecinos del municipio interesados en compartir sus conocimientos y experiencia sobre las diversas problemáticas de Tamazula y sus propuestas de solución. Toda la información que se obtuvo fue sistematizada por los servidores públicos y está siendo procesada para integrarla en el PMD que está por finalizarse y presentarse en mayo de 2022.
Feedback Labs: ¿Qué sigue para el "Feedback Crash Course"? ¿Cómo planea NDI México continuar usando esta metodología en su trabajo? 
NDI México: Desde que en NDI México estamos implementando nuestro actual proyecto de trabajo con gobiernos locales, hemos podido identificar que muchas autoridades municipales tienen el interés y la disposición de hacer efectiva la participación ciudadana. De manera positiva, encontramos que, pese a las excepciones, ya hay más gobiernos que consideran necesario sumar a la ciudadanía en la discusión de los asuntos públicos y tener su retroalimentación para construir políticas públicas más legítimas, robustas y eficaces. Lo que falta, muchas veces, es vencer el temor a que esos procesos se vuelvan caóticos o que se salgan de control; es decir, lo que falta es saber cómo diseñar procesos de retroalimentación de una manera ordenada, metódica y significativa. La metodología de retroalimentación ayuda a suplir esa necesidad. Con el Feedback Crash Course se muestra no sólo el "Know-How" para lograrlo, sino que también se muestran ejemplos que inspiran y motivan a los gobiernos a dar ese paso con mayor confianza y seguridad. En NDI México esperamos replicar más ejercicios de retroalimentación en Guanajuato y otras municipalidades para que el diálogo, la co-creación, y el trabajo colaborativo entre ciudadanía y autoridad se vuelva costumbre en México y, si es posible, en los demás países de la región latinoamericana.