Feedback Champions
Supporting Feedback Champions in the United States
What is a Feedback Champion?
The goal is to identify a diverse set of emerging leaders in the feedback field in the U.S. and provide support as they become feedback champions in the nonprofit and philanthropic sectors.
The Feedback Champions Fellowship supports US-based professionals who have experience in the nonprofit or philanthropic sector and have demonstrated commitment to listening and acting on feedback but are not yet established as known leaders in their field.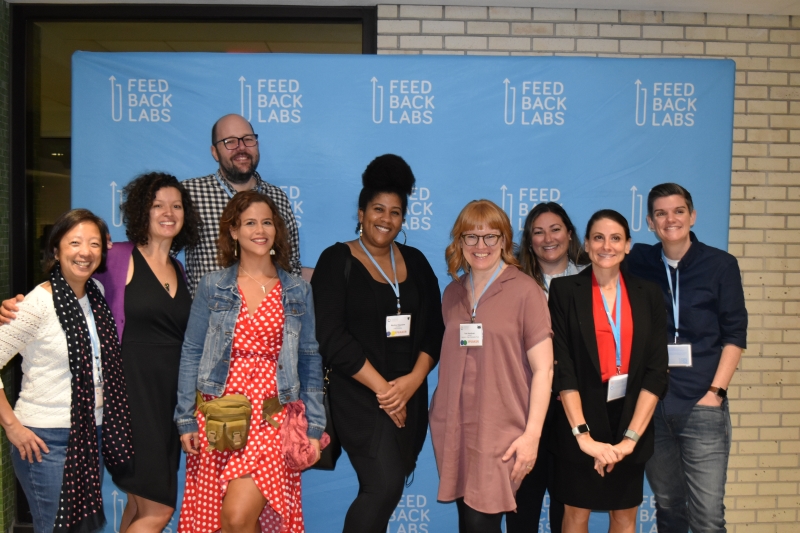 What does the Fellowship look like?
The Feedback Champions fellowship is a one-year fellowship to support individuals to:
Gain confidence and support in talking about feedback, its benefits to the sector, and how it supports their work

Receive training and mentorship in writing and public speaking

Become a part of a broader feedback community

Directly connect with speaking and writing opportunities.

Through a cohort model over the course of a year, Fellows will have access to the following benefits:
In-depth feedback training through

Feedback Crash Course

;

Six virtual cohort learning talks to dive into topics ranging from good feedback practice to public speaking;

Training intensives on professional skills, such as writing and public speaking;

Writing support, publication, and promotion of at least one blog piece focusing on the benefits of listening and feedback to their work;

Conference ticket and travel support to attend Feedback+Atlanta and the 2024 annual Feedback+ Summit;

Professional one-on-one coaching from an experienced professional; 

Connections to the broader feedback community through a personal mentor and other Feedback Champions;

Guaranteed speaking opportunities at Feedback+Atlanta;

Guaranteed feature slot at a 2023 Feedback Labs LabStorm 

Access to Feedback Labs and its membership, including feedback tools, trainings/presentations/webinars, and writing opportunities
*Champions in the nonprofit sector will also receive a grant of $10,000 to their organization to cover their time to participate in Fellowship and to attend and speak about feedback at related sector events.
What are the expectations during the Fellowship?
The Feedback Champions Fellowship is a one-year partnership among the Feedback Champion, their organization, and Feedback Labs. The graphic below is intended to communicate the expectations to which each partner will commit during the Fellowship.
Feedback Champion
Host Organization
Feedback Labs

Attend and speak at the

Feedback Summit

in Atlanta, Georgia from February 8 – 10, 2023

Provide institutional support for participating Feedback Champion, including time to engage in all expected Feedback Champion activities

Provide financial support for ticket and travel to Feedback Summit

Attend the in-person

Feedback Crash Course

during the Feedback Summit

Time off "regular" work to participate in Fellowship activities (Feedback Summit, Crash Course, cohort meetings, etc)

Provide training and coaching in writing and public speaking

Attend six virtual meetings with your cohort group and actively participate

Permission to discuss the organization's work, successes, and challenges in the Feedback Summit sessions, blog, and LabStorm

Match Feedback Champions with a professional coach and provide support to the coaching relationship

Serve as a featured presenter in a 2023 Feedback Labs

LabStorm

*For nonprofits: complete MOU to receive a grant of $10,000 to cover Feedback Champion's time to participate in Fellowship and to attend and speak about feedback at related sector events

Provide an in-person

Feedback Crash Course

at the Feedback Summit in Atlanta, Georgia from February 8 – 10, 2023

Create a blog post about the work you're doing to share with the feedback community

Lead six virtual meetings to dive into topics on good feedback practices (i.e. cohort meetings)

Actively participate in one-on-one coaching from an experienced professional

Promote the work of the Feedback Champion and their Host Organization in our external communications, including our website, blog, and social media

Facilitate community and shared learning experiences among the cohort Fellows

With partners, provide writing support for the completion of the Feedback Champion blog

Host the

LabStorms

in which Feedback Champions and their Host Organization receive real-time support and solutions for solving a feedback challenge

Identify additional opportunities for Feedback Champions to publish their writings, conduct public speaking engagements, or otherwise promote their work and the work of the Host Organization
Meet our 2023 Feedback Champions
Ada Gomero is a Latinx leader working in philanthropy. As Learning Officer at the MacArthur Foundation, she facilitates the use of data and information for decision-making, learning, and strategy. She designs and leads learning opportunities that enable program, department, and institutional development and continuous learning. Before joining the Foundation, Ada served as Equity Data Strategist with the Chicago Public Schools Office of Equity, where she expanded the use of qualitative and quantitative data to better serve the young people of Chicago by shifting practices across the school system. She collaboratively led the development of tools that center on liberatory thinking, authentic stakeholder engagement, resource equity, and how to apply an equity lens to data. Prior to that, Ada was Evaluation Officer at the International Planned Parenthood Federation/Western Hemisphere Region. She provided technical assistance to teams at organizations in Africa, the Caribbean, Latin America, and Southeast Asia. Ada is an alumna of the 2020 Chicago Surge Fellowship for leaders of color in education. She holds a Master of Public Health from Columbia University Mailman School of Public Health, and a Bachelor of Arts in Psychology with a minor in Human Rights from the University of Chicago.
Anne Meysenburg currently serves as the Director of Community Investment at the Omaha Community Foundation. In this role, Anne carriers the responsibility of the Foundation's community-based work including discretionary grant program, nonprofit capacity-building, and data and community connection-focused strategy.Anne lives in Omaha with her partner David and two very tenacious children, Desmond and Eleanor. In her free time, she loves reading, running, biking, and yoga.
As an associate at Omidyar Network (ON), Jaime Vazquez partners with thoughtful colleagues on how ON can push philanthropy to be more equitable and in line with meaningful systems change. Prior to joining ON, Jaime worked to help facilitate and communicate a strategic shift in organizational strategy at the Center for American Progress (CAP). Jaime holds a B.A. in International Relations and Global Studies from the University of Texas at Austin. He received his M.A. in International Peace and Conflict Resolution from the American University, School of International Service.
Jeremy Page is an Operations Manager for the Cincinnati and Cleveland sites of The Bail Project. Jeremy is a 2012 graduate of Northern Kentucky University with a Bachelor of Arts degree in Criminal Justice. He's also a graduate of Eastern Kentucky University with a Master of Science degree in Justice, Policy, and Leadership. Jeremy is a proud member of Alpha Phi Alpha Fraternity, Inc. Jeremy is a native of Louisville, Kentucky, is passionate about criminal justice reform, and believes that ALL Black Lives Matter.
Jordan Reeves (they/she/he) is queer, trans and non-binary. In 2010, they helped start TED-Ed (viewed billions of times online). In 2016, Jordan started VideoOut to illuminate the LGBTQ+ experience. In addition to interviewing over 400 LGBTQ+ people, Jordan has worked with Google, Hulu, Verizon, P&G, Airbnb, and AARP to create inclusive content and programs. In 2020, Jordan started VOE to infuse Hollywood with stories that are too often missing in the canon of television and film.
Michelle Hughes is a former large-scale hog farmer from New Haven, Connecticut with a background in agriculture policy reform. In her role as Operations and Impact Director for the National Young Farmers Coalition, Michelle works with Young Farmers leadership to develop long-term operations strategy and evaluation plans to successfully continue the organization's anti-racist transformation in alignment with our strategic plan. To learn more about our racial equity transformation, check out the Young Farmers Accountability Report. Michelle has recently extended her work on internal structure reform to the U.S. Department of Agriculture in her appointment to the Department's Equity Commission, Agriculture Subcommittee. Alongside a number of revolutionary leaders in agriculture, Michelle's work on the Subcommittee will work to address a history of discrimination at USDA by providing recommendations to the Department to better serve young farmers of color today. For more information on the Equity Commission and the intention we're setting for our involvement, see our blog post "USDA awards a seat at the table to Young Farmers on its newly formed Equity Commission's Subcommittee on Agriculture."Prior to completing her M.A. in Food Studies at New York University in 2019, Michelle worked in swine reproduction at the University of Pennsylvania, with both non-profit and food and agriculture start-ups in NYC and the Hudson Valley, and served on a program evaluation team for the NYC Mayor's Office of Food Policy.
Natalie K. Garcia, Ph.D.'s work lies at the intersection of environmental and social justice. They are also an educator, scientist, community organizer, and lifelong learner who is passionate about dismantling oppressive constructs. Natalie is a trained scientist, with a doctorate in Medicinal Chemistry from the University of Washington. Natalie has published over a dozen of scientific papers, mentored and taught students, and has attended and presented at several national conferences and leadership institutes. Natalie has been dedicated to increasing access to science education and research for students not traditionally seen in these spaces. After briefly working in the corporate sector, Natalie's bigger passion, working with students, building community, and finding any opportunity to write, prevailed as they joined the nonprofit Sustainable Seattle as Co-Director. Natalie's social justice calling was deeply solidified after working in radical spaces and organizations dedicated to fostering the success of Native Americans (Indigenous), Chicanos/Hispanics/Latine, and marginalized genders in the sciences. With ancestral ties to Indigenous communities and migrant farmworkers, Natalie has had a personal and deep connection with how history and culture impact food systems and land use, while tending to the unceded traditional lands of the Duwamish and Coast Salish people, past and present. Natalie believes a strong sustainability movement puts people over profits and should focus on strengthening our inherent duties as settler guests of the land on which we reside. Natalie is grateful to be part of the Feedback Champion 2023 cohort and eager to put these concepts into practice.
Ronnie King is the founder and owner of Scratchwerk Technology, which develops InsurTech, EdTech, and CivicTech software solutions and integrations. King is also an active community volunteer and founder of the MyVillage Project and the MyVillage Project Community Fund. The MyVillage Project was created in 2013 to help bring awareness to funding inequities within the nonprofit sector, while coordinating resources to specifically support Black-led organizations in Northeast Florida. The work of the MyVillage Project provides educational programs to students of color, and includes the collective efforts of over 70 organizations. The MyVillage Project Community Fund is a donor-advised fund at the Community Foundation for Northeast Florida. Since 2020, the fund has distributed over 150 grants and over $500K to Black-led grassroots nonprofits in Jacksonville, FL. Ronnie currently serves as the President of the 100 Black Men of Jacksonville and Co-Chair of the Urban Ed Symposium. He has been appointed to serve on several city boards and commissions, including serving as the previous Chair for the Library Board of Trustees and current Vice Chair of the Safety & Crime Reduction Commission. Through his service on boards such as Mentoring Families and Kids, the National Society of Black Engineers, The Tributary, Jacksonville Urban League, and the Jacksonville Public Education Fund, Ronnie has designed and participated in many educational opportunities for Duval students. Ronnie also believes in the importance of increasing Black representation in technology fields. He created the "Coding in Color" Summer Camp series, the 100 Stars STEM Center, and the Scratchwerk Academy Internship Program, which has trained and exposed over 1,000 Black youth to careers in software development. Ronnie is a member of Omega Psi Phi Fraternity and a proud father of two beautiful girls, Jada and Bostyn.
Rylan Truman is the Director of Supplemental Programs at the Kentucky Office for Refugees (KOR), the federally designated state passthrough entity of resettlement grants. She has worked in the resettlement program for more than 15 years and in a variety of capacities. Rylan got her BA in Anthropology and her MSW in Community Organizing. She seeks to scale more participatory grantmaking into KOR's funding processes, centering community voice in decision-making.
Yon Jimenez Macuso's work focuses on building data systems, processes and tools to generate data and evidence on the value of employment social enterprises (ESEs). REDF invests in ESEs which are mission-driven revenue-generating businesses that reveal and reinforce the talent of people breaking through barriers to employment to build an economy that works. For everyone. Yon has spent over a decade working in the social sector fighting injustices and promoting economic security for individuals who face systemic inequities and barriers to work and opportunity. Prior to REDF, Yon gained data management and evaluation experience at Renaissance Entrepreneurship Center, an organization that provides access to business education in low-income communities and communities of color. Yon has also worked in nonprofit and startup organizations in Spain, his country of origin. Yon earned his Master's Degree in Business Administration and Management from the University of the Basque Country in Spain, and a Social Sector Leadership certificate from UC Berkeley and Philanthropy University.