Rodney Gaines & Dana Kiernan, Virginia Community Voice  | July 26, 2021
---
The marginalization of Black people in Richmond, Virginia has a long history.
Richmond was home to the second-largest slave trade in the South. The Virginia General Assembly was the first to pass slave codes in 1705 and one of the last to integrate its schools in the late 1960s.
Against this backdrop, it's not surprising that institutional decision-making here continues to be inequitable, with people of color underrepresented in nearly every decision-making body.
This is not because residents of color don't have an opinion on what needs to be done but because they haven't had access to power and resources. People who best understand the issues have a radical imagination for change.
As Rodney Gaines, long-time Southside resident and now Community Advocate with Virginia Community Voice says, "When your community interests are not being served, you learn to do for yourself. Our community is the first step toward eliminating the violence in the streets."
The mission of Virginia Community Voice is to equip neighbors in historically marginalized communities to realize their vision for their neighborhoods and prepare institutions to respond effectively. We have two programs, RVA Thrives, and Community Voice Blueprint.
Neighbors like Rodney joined RVA Thrives through our first listening process on Richmond's Southside in 2017. As he puts it, "Home and your Community is the foundation of everything we see and do in our everyday life and relationships. When you look at your neighborhood or community, it is very easy to see what is not being done. Also, when your needs are not being met, there is a tendency to complain, shut down and not care. If your community or neighborhood is not a safe, clean, pleasant and friendly space to return home to, this can become negative energy and everywhere you go; you carry that with you."
These are the kinds of things we heard from Southside neighbors during our first listening process in 2017.
Through more than 100 one-to-one conversations and 50 recorded interviews with residents, our staff started to understand the hopes, challenges, and vision for a more thriving community. Every time they met with a neighbor, they asked, "who else should we meet with?" The network grew.
Next, we started to design a community survey, but we knew we wanted to do this differently from other organizations.
During our initial conversations, neighbors shared that organizations entering and leaving communities rapidly were the Southside norm. Each time someone came and went, there were no tangible benefits or changes for community members. Understandably, long-time neighbors like Rodney were skeptical of RVA Thrives at first. Neighbors were tired of outside groups coming into "help," and many had stopped interacting with nonprofit groups like ours.

As an organization founded and led by Black women, our staff understood the deep frustration of not being heard about issues that are often a matter of life or death. We knew we had to be different. 
We were determined to center people directly impacted in all our decision-making.
For example following the completion of the first draft of our community survey, we asked the residents on our newly formed Steering Committee to review the questions. Specifically, we asked the Committee if the questions were accessible, culturally appropriate, made sense, and if they would get us the answers we were looking for. 
The Committee members did not hold back. They told us plainly that the questions were not accessible for this community and worked with us to improve them. After a few rounds of reviews, we had our final survey. 
We used a strength-based approach rather than a deficit-minded one like most surveys do. We asked neighbors, "what are the two greatest strengths of your neighborhood? Instead of assuming what the community wanted and needed, we asked, "What would it take for this community to thrive?"
When it came time to administer the survey, RVA Thrives hired community members. They rode the bus, hung out at the basketball courts, and went door-to-door. By working with community members, we had a great response rate of over 700 surveys! 
These methods were about far more than just getting a survey completed — it was about building relationships. This is different than when an organization or bureaucratic entity enters a community with no connections, extracts information, and doesn't stick around for the real work of community change.
We don't stop after listening. We move people toward collective action. We build power.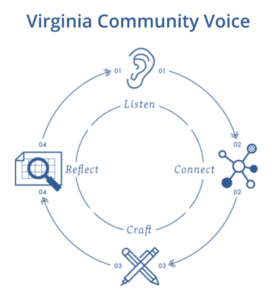 As Rodney describes it, "Being a Community Advocate with Virginia Community Voice, our goals and responsibilities are to LISTEN, CONNECT and ENGAGE with our Southside community. Our team has weekly meetings with our community engagement directors. We have One to One training sessions and interviews with our neighbors. Neighbors are trained on how to do surveys. We plan working group meetings. Finally, we formed a Steering Committee with residents from different neighborhoods that participate as our community advisory board. We all share the same issues and concerns: A cleaner and safer community." 
Though it's been 4 years since that first listening process, we continue to listen all the time. Our model is cyclical — LISTEN, CONNECT, CRAFT, REFLECT — and we repeat the listening and reflection steps daily.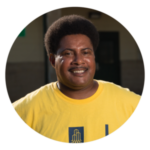 Rodney Gaines is a 40 year resident of Davee Gardens. Prior to serving as RVA Thrives Collaboration Coordinator, Rodney worked for UPS for 14 years and started with RVA Thrives as a Community Advocate in 2017.
Rodney is a small business owner, offering mobile hair cuts around the City of Richmond. Rodney does community outreach, neighbor engagement, and leads the work on jobs access. Rodney enjoys gardening and is a certified Tree Steward. Contact Rodney at [email protected].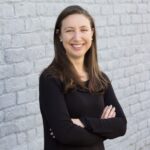 Dana Kiernan is an experienced data analyst and researcher, providing support across all VACV projects. Prior to joining VACV, Dana worked as a data and research analyst for the Thriving Cities Group, focusing on jobs access along the Richmond Highway Corridor.
Dana earned a Bachelor's degree from The Catholic University of America and her graduate degrees from the University of Virginia's Batten School of Leadership and Public Policy and the School of Medicine Public Health Program. Prior to graduate school, Dana supported the Department of Homeland Security ensuring compliance with biosafety and biosecurity regulations. Dana lives in Eugene, Oregon with her husband and two dogs. Contact Dana at [email protected].
More about Virginia Community Voice

Virginia Community Voice equips neighbors in marginalized communities to realize their vision for their neighborhoods and prepares institutions to respond effectively. The voices, lives, and stories of historically marginalized people matter. Your investment equips neighbors to lead through RVA Thrives, a community engagement initiative on Richmond's Southside.
VACV has two programs: RVA Thrives & Community Voice Blueprint. RVA Thrives increases neighborhood leadership over decisions affecting the Richmond Highway Corridor community. Using a four-stage process we listen to neighbors, connect them to resources, craft equitable solutions, and reflect on our progress.
Community Voice Blueprint is a guide to our four-stage community engagement process. Using the Blueprint, we train and coach institutions on how to engage marginalized communities equitably.
To learn more about VACV, support their work, or contact their team, visit vacommunityvoice.org. General inquiries can also be sent to [email protected].