Bailey Park Neighborhood Development Corporation is a leading partner in a broader neighborhood sustainable redevelopment implementation plan, forged through community engagement as with this 2020 meeting of residents participating in the planning process.
Katrina Keeby-Watkins, Bailey Park Neighborhood Development Corporation 
May 4th, 2022
---
The following is the latest post in our continuing Listening for Justice series where we highlight the essential role of listening and feedback in the social sector. Our goal is to hold up BIPOC leaders centering the voices of people and communities most harmed by structural racism and other systemic inequities — and better understand how the daily work of listening provides a foundation for the most impactful racial justice work.
One day when I was having a conversation with my neighbor, Mrs. Davenport, about the state of our Detroit neighborhood, I realized it was the same conversation I often had with other neighbors over the years. We would talk about the lack of city services, how the neighborhood was in disrepair with overgrowth and trash, and that it offered too few activities and opportunities for residents. So when Mrs. Davenport turned to me and said, "Stop complaining and do something about it. Start a nonprofit and do something. You are smart enough to help turn things around in this neighborhood," I knew it was time to take action.
The year was 2013, and Detroit was in bankruptcy, a situation that was particularly tough for the already long-neglected neighborhoods outside of the downtown area. I decided to take Mrs. Davenport's advice and start a nonprofit, the Bailey Park Project, with the name inspired by It's a Wonderful Life, one of my favorite movies. The classic film exemplifies a community coming together and the difference that one person can make in the lives of so many. My goal was to create a more cohesive community — a community where residents worked together to improve their neighborhood. 
My family had been living in the McDougall-Hunt neighborhood since 1946, historically one of the first middle-class African American neighborhoods in Detroit. In 2006, I purchased a single-family home that was part of a new housing development project led by my aunt. The community development nonprofit's goal was to rebuild the neighborhood; however, the project stalled due to a lack of funding. By 2013, McDougall-Hunt was falling into disrepair and I knew that something needed to be done. 
I started doing what I could within the neighborhood, and that was having small community clean-up projects. I would grab my sons, younger cousins, nephews, nieces, and other people on the block and we would pick up the trash in vacant lots. In 2014, I met two University of Detroit students, Joseph Gruber and Scott Davidson, who were looking for a subject for their capstone project. They asked me what changes I would like to see in the neighborhood. I told them that the lots across the street from my home were overgrown to the point that it looked like a forest, and it was unsafe. I explained how we, the residents, had the desire to revitalize the lots, but not the resources or equipment.
Having found their subject, Gruber and Davidson created the FREE Project (Framework and Resources for Empowering Environments). Through this project, I learned how to connect to the Detroit Land Bank Authority, which owns many of the neighborhood's vacant lots, as well as other organizations and businesses. The FREE Project revitalized 16 vacant lots and transformed my street. After the project ended, I continued the work by partnering with other neighborhood organizations to host monthly meetings addressing residents' concerns. 
As I continued to work within the neighborhood, the most important thing that I learned was that it's important to engage residents and listen to them. The best ideas come from residents. To create sustainability within neighborhood projects, residents must be involved. My goal was to develop projects that were truly resident-driven and would reflect the dreams, goals, and vision of the community. 
After the success of the FREE Project, Gruber noticed there was an overgrown park located close to the newly revitalized lots. He suggested that Bailey Park adopt the park through the City of Detroit's Adopt-A-Park Program, and give it the "Bailey Park treatment." At the time, the area had so much overgrowth that many residents were not even aware that it was a park. In 2016, our small group successfully adopted and revitalized Calcara Park, and with funding and support from Comerica Bank and the Police Athletic League, a new baseball diamond was constructed, and Calcara Park was named an official location for PAL Little League. 
The following year, more neighbors came to me to discuss the lack of decent and safe play space for their children. With support from new neighbors Robert Siporin and Liz Kirk, new Bailey Park lots were identified and residents began working together to raise funds for their purchase. With my established connections with the Detroit Land Bank Authority, the process went smoothly, but my neighbors and I weren't going to stop there. More work needed to be done.
At the time, McDougall-Hunt was park-poor with no open and up-to-date parks where children could play. We knew that we needed to create park equity. All children should have a safe place to play and residents should have a safe place to walk and gather. We also realized that we needed to do more than just create a park.
In 2018, the president of the McDougall-Hunt Neighborhood Association, Duane Ashford, and I began searching for a way to update the 2003 McDougall-Hunt Redevelopment Plan. Updating the plan was key because it would provide guidance for future neighborhood development. Racheal Alternative of the Cedar Tree Foundation liked what she saw happening in the neighborhood and provided funding to help with the update.  
During the community engagement process, residents were given the opportunity to voice their concerns and share their vision for the neighborhood. It was clear that residents wanted to have a seat at the table when it came to neighborhood development. They wanted to help implement the redevelopment plan and include resident voices. Five committees were formed for residents to join: Open Space (focused on vacant lot activation), Mobility (aimed at creating safer streets), Residential Services (to address services for residents, such as home repair), Housing (concentrated on creating affordable housing opportunities), and Commercial (directed at collaboration with the neighborhood business corridor). Through these meetings, residents were able to voice their concerns and participate in the development of their own neighborhood.
In 2019, we changed the name of the Bailey Park Project to Bailey Park Neighborhood Development Corporation (BPNDC) to reflect all the community development work we were promoting and leading. At the start of the pandemic the following year, BPNDC used our ears-to-the-ground approach to pivot to providing services to residents who were facing challenges such as health concerns, job loss, and isolation. 
We were able to lease a home that would become what residents call The Community Hub. Previously a vacant home, The Community Hub has become a site for testing and vaccination events, mask distribution, and food deliveries to residents in partnerships with Gleaners, a local food bank. The Community Hub also hosts outdoor events for residents of all ages. 
In response to a resident survey, we will be adding a computer lab to The Community Hub, tutoring services, and host Salesforce Administration classes. The goal is to create a workforce development program for residents to upskill so that they can find higher-paying employment opportunities.
After residents voiced their concerns to us about high brush growing in vacant lots during the summer, BPNDC established a workforce development program called The Bailey Park Grounds Crew. And we were the proud recipient in 2020 of a grant from the Detroit Residents First Fund, receiving $50,000 to help purchase commercial-grade lawn care equipment and hire residents to work. 
Along with all our community development work and provision of services, BPNDC is also involved in advocacy, as reflected in our organization's motto, "Inspiring a Community of Change." Our latest initiative is around environmental justice, working with residents to identify the environmental issues they want to organize around. BPNDC is also gearing up to participate in Fund for Shared Insight's feedback initiative Listen4Good, a program that supports nonprofits as they implement high-quality feedback loops with the people they seek to serve. I am quite enthusiastic about this new resource to promote community engagement. The Listen4Good survey process will help us gather input, demographic data, and other information from residents that will help us shape our programs, improve our communication methods, and give us a benchmark on how we are doing.
In the beginning, I went to the City of Detroit on my own, asking for help and direction with my small neighborhood project. Now, I am part of a broader effort to build a collaborative voice that is so much more impactful and powerful. It's not just me speaking out. It's us listening to each other and amplifying our voices. 
---
About the Author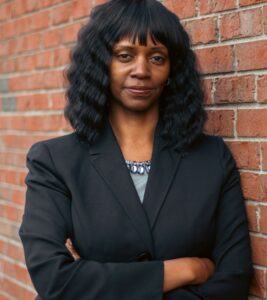 Katrina Keeby-Watkins is a former educator, therapist, social worker and long-time resident of Detroit, MI. Katrina earned her BA degree in Social Work from Siena Heights University, and earned her MA in Adult Education from Central Michigan University. Katrina has over 20 years of experience as a nonprofit professional developing community partnerships and building workforce development programs in the Metro Detroit area. Currently, Katrina is the founder/CEO of the Bailey Park Neighborhood Development Corporation (BPNDC). Dedicated to empowering her community in an impactful manner, Katrina created BPNDC to help strengthen the McDougall-Hunt neighborhood by creating programs that encourage safety, sustainability, and stewardship.