Britt Lake, CEO, Feedback Labs  | July 15, 2021
---
One of the first priorities I set after joining Feedback Labs as CEO just over two years ago was to establish a way to better connect our network of over 600 organizations.
Today Feedback Labs launched our Feedback Labs Membership Program! We're so excited to finally bring our community this experience.  
Even before taking the helm of Feedback Labs, I was a member of this community – seeking advice from Feedback Labs' staff, writing for the blog, and attending and speaking at LabStorms and Summits. I knew our community wanted more support, resources, and connections because as a longtime Feedback Labs partner, I was one of the people looking to feel connected. 
We initially planned to launch Membership in 2020, but COVID-19 caused us, like many of you, to reprioritize.  As we adjusted to working remotely, shifting most of our events and operations online, we were able to learn and seek deeper feedback from our community on a program that would meet the needs of our network. We really wanted to get this right. 
I'll start by telling you what this Membership program is not. It's not a money-making venture for us. The majority of our members will join at the free level, and we can't wait to welcome them. When we were working with experts to design our programs, we were intentional about not creating another cohort-style program. There are no assignments, mandatory anything, or time commitments–members can choose to be as involved as they desire. 
Finally, this is not our membership program, it's yours. We've deliberately built a great degree of flexibility into the programs. We want- and expect! — the programs to shift, change, and adjust, just as our communities do, and we want to be agile enough to support you. 
We want to know you. We want to know what you're working on, what support you need, and how we can shape our offerings to serve you better.
I want to invite you to be among the first to join personally.
Feedback Labs Membership was designed with feedback (naturally!) from long-time community members asking for more ways to connect with other innovative organizations working to make feedback the norm.
Don't worry – all of the benefits you currently enjoy remain free to our members, and you have the upgrade to a Premium membership to get additional discounts and benefits. We've created tiered options, so whether you are new to feedback and are looking for a community to develop and grow your work, or you are an experienced practitioner and want to connect on a deeper level, there is an option for you!
We offer both Free and Premium memberships so that organizations can pick what level of engagement and support makes the most sense for them.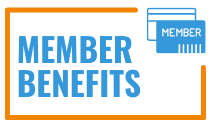 All members will enjoy the following benefits: 
A dedicated Member Concierge 

Access to our Members-Only Portal 

A Member Profile Listed in our Member Directory

Preferred Opportunities to Write for Feedback Labs Blog & Newsletter

Access to Attend & Present at LabStorms

Access to Feedback Resources & SmartPapers

Additional Insights from our Feedback Quiz

Membership Badge to display on your website & social media profiles

Advanced access to Feedback Labs & Partner Events
Premium Members will receive all of the above benefits, plus:
Discounts to our Annual Feedback+ Summit

Access To Premium Resources

One on One Feedback Support

Monthly Member-Led Community Calls

Discounts on Training

Organization-Wide Access to Membership Resources
Signing up for Feedback Labs Membership is easy and free! Join Today Here!
Feedback Labs Members looking to take their feedback practice to the next level and enjoy additional benefits and discounts can upgrade to the Premium tier at any time for just $350, per organization, per year.  
Learn more about Feedback Labs Membership, review frequently asked questions, or contact a team member; visit FeedbackLabs.org/membership.
We can't wait to connect with you! 

Britt Lake and the Feedback Labs
Wondering if Feedback Labs Membership is right for your organization?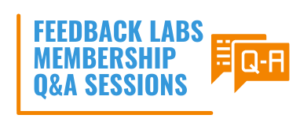 JOIN US for a quick 20 min. Q&A Session, Tuesday, July 20, at 8:00 am ET.

Additional Sessions:
Join our Community Navigator for a quick overview of our Membership Program. Members of our team will be available to answer your questions LIVE!
Feel free to submit questions to [email protected] in advance.  Please register below, so we'll know you're coming!