Melinda Tuan, Fund for Shared Insight | July 9, 2021
---
Listening for Equity
In July 2014, a small group of funders came together to form Fund for Shared Insight, a collaborative focused on promoting listening and feedback to elevate the voices of those least heard in our field: the beneficiaries of nonprofit programs and services. We wanted to bring effective and efficient feedback loops to the social sector so that communities are heard, and nonprofits and foundations act on what they hear.
When we launched, our funders were at different places in their own understanding of EDI. Some came from institutions with longstanding commitments to EDI, while others were still in the learning stage. At least one funder in the group had never had a serious conversation about EDI at their foundation. Frankly, at that time, I did not think of equity, diversity, or inclusion as central to Fund for Shared Insight's work around feedback.
Fortunately, our funders with stronger understandings of EDI saw that our work was directly and unequivocally related to equity, diversity, and inclusion. They understood how meaningful feedback involves listening to diverse voices, and how the very best feedback loops encourage inclusive engagement. They also understood how feedback has the potential to shift organizational culture and disrupt traditional power dynamics between nonprofits, philanthropy, and the people and communities they serve.
Those colleagues consistently challenged others at the table to consider how we might put equity – and more specifically racial equity – more squarely at the heart of our work. By 2016, all of our funders committed to exploring this together. But we needed a starting point.
Building Shared Experiences
As is true for many funders and collaboratives beginning an equity journey, our core funders and staff came to this exploration with a variety of perspectives and life experiences. We recognized early on that a common vocabulary and a shared understanding of history were essential.
One of our first steps was to spend three days together with our colleagues at the W.K. Kellogg Foundation, learning about their approach to philanthropy from a racial equity lens and also more about the history of racism and slavery in our country. We also worked with a consultant to help us build a shared understanding of the terms "equity, diversity, and inclusion" and how they show up in our work.
At our core funder meetings, site visits, and convenings, we continued to learn together. In 2018, Bryan Stevenson from the Equal Justice Initiative gave a powerful keynote at a national gathering of Fund for Shared Insight's grantees and funders. His speech inspired us to shift one of our 2018 core funder meetings to Montgomery, Alabama so we could visit – together – The Legacy Museum: From Enslavement to Mass Incarceration and the National Memorial for Peace and Justice.
These shared experiences formed a strong foundation for our work together and helped us see even more clearly the connection between EDI and our work on feedback.
Making the Implicit Explicit
In 2016, we first launched Listen4Good (L4G), an initiative which helps direct-service nonprofits implement high-quality feedback loops with the people they serve. We decided to prioritize working with organizations that would collect feedback from those whose voices are least heard, which we came to define as people or groups who have been marginalized due to historical inequality and enduring structural barriers, such as systemic racism. The many discussions we had to clarify our definition of "voices least heard" also helped us to understand the importance of being explicit about EDI.
More than 400 organizations in the U.S. are participating in Listen4Good, supported by more than 100 funding partners. We have collected feedback from nearly 122,000 people across the country, including clients at SRVS, a Memphis, Tennessee organization working with people with developmental disabilities, and Our House, a homeless-services nonprofit in Little Rock, Arkansas. Both these organizations, and many other L4G nonprofits, have made systemic and structural changes in response to feedback from the people they serve. But even with this track record, we know that asking for feedback in and of itself is not automatically an EDI practice unless organizations make an explicit connection and practice feedback through an EDI lens
This journey has taught us that feedback reflects diversity only if organizations survey broadly to ensure that those who are hardest to reach are included. Feedback promotes inclusion only if people surveyed feel they are being heard and their opinions matter. And feedback advances equity only when those hearing the feedback are open to change, and are willing to engage those giving the feedback as partners in designing that change. At its best, feedback empowers people and shifts power in the sector.
Working with an Equity, Diversity & Inclusion Lens
Like many other funders on an EDI journey, we've come to recognize that working with an EDI lens means more than supporting organizations working toward equity. It has an impact on everything we do. Here are some of the ways we have expanded our commitment to EDI:
We now have an EDI partner as a member of our core staff team who is involved in every aspect of our work.
We're committed to recruiting and hiring staff and other partners from diverse backgrounds and to intentionally networking outside of our usual contacts.
Our theory of change now includes explicit EDI markers. For each activity and focus area, such as building feedback practice in the social sector, we ask the same guiding questions: How does this reflect our commitment to advance equity, diversity, and inclusion?
Our evaluation and learning partner has added EDI-focused questions to their surveys to help us learn and hold ourselves accountable.
We recognize that we have more to learn and that many institutions are far more advanced in their understanding and application of EDI principles in their grantmaking. As we look toward the future, we are considering ways to make grants decisions through a racial equity lens. We are learning about participatory grantmaking and how that might further our EDI goals, especially as we explore working with policy and advocacy groups interested in partnering with the communities they serve.
Shared Insight is committed to continuing this EDI journey. In the process, we are fundamentally changing our work and its results and impact. We know that many others in philanthropy are sharpening and deepening their commitment to EDI, and we urge our colleagues to embrace that journey and to share their stories. We believe there's enormous value in listening – and learning – together.
Melinda Tuan is managing director at Fund for Shared Insight. You can follow her on Twitter at @MelindaTuan.
This blog was originally published by The Center for Effective Philanthropy on Oct. 10, 2019 and can be found here. 
This blog was edited on 4 October, 2021 to update Listen 4 Good's new website URL.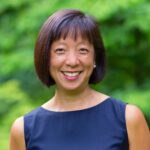 Melinda Tuan (she/her) is the Managing Director at Fund for Shared Insight where she guides and facilitates operations, communications, grantmaking, evaluation, and more. As an independent consultant to senior leadership at philanthropic organizations around the country, Melinda promotes, crafts, and implements strategies for effective philanthropy. Prior to starting her consulting practice in 2003, Melinda co-founded and ran REDF, a social venture capital fund; served as a manager at a national healthcare nonprofit; and worked as a management consultant. She enthusiastically brings her unique combination of business, leadership, evaluation, and management skills to helping mission-oriented organizations meet their goals, care for people, and better the world in which we live. Melinda can be reached at [email protected] or on Twitter at @MelindaTuan
More about Fund for Shared Insight

Fund for Shared Insight is a national funder collaborative promoting high-quality listening and feedback in service of equity. Their signature initiative, Listen4Good, advances constituent feedback as a complement to monitoring and evaluation with the goal of helping nonprofits and foundations be more responsive to the needs, preferences, and opinions of the people and communities they seek to benefit and serve. You can learn more about the work they support at fundforsharedinsight.org.