Girls share their experiences as Black girls with muralist Austin Miles to help her create a mural for the Mending Walls Project based on their feedback. 
---
Angela Patton | November 13, 2020
---
Black girls are one of the most untapped resources we have in this country. They are underestimated, under celebrated, and face issues that are not addressed or even acknowledged. Black girls face stereotypes and negative perceptions from an early age, are often seen as disruptive or have attitudes when they speak up, are hyper-sexualized because of their body type, experience high rates of school push out, and see few role models who look like them (to name a few issues). Girls For A Change works to change this by investing first in the empowerment and wellbeing of Black girls so that they know the magic that lies within them. Our mission is to empower Black girls to visualize their bright futures and potential through discovery, development, innovation, and social change in their communities. Our work is designed to change the trajectory of Black girls' lives and increase the contribution of Black girls in the 21st century. We want every girl to be seen, heard and celebrated.
We invest in Black girls by offering access to mentors who look like them, STEAM experiences, digital skills training to close the digital divide in our community, social-emotional learning, and opportunities to develop their voice and speak out about issues. Simply put, we offer development opportunities designed to take care of the whole girl so that she knows how powerful she is.
What investment looks like
Investing in Black girls doesn't just mean creating programs you think they need or want, it means listening to what they need. Nonprofits are often quick to come up with solutions for the communities they serve without ever truly listening to what that community wants. We meet and talk to our girls regularly, we ask them for their ideas and feedback, and we actively involve them in our initiatives. When girls see that their opinions matter, they feel more confident to reach for the stars in their own lives. Putting girls voices at the center also builds trust within our community and helps us stay fresh and creative as an organization.
Beyond listening and feedback, we are always looking for ways to co-create with our girls. We do this by putting girls on councils and committees, and asking them to design and lead Girl Action Team projects. Co-creation has led to some of the most powerful initiatives here at Girls For A Change. It's the reason we have Date with Dad and a mural in Richmond. Through co-creation, girls feel empowered. Nia Taylor, a 16-year-old in one of our programs, found her voice at Girls For A Change.
"I appreciate a safe space for girls in the community to come together and connect. I also learned that I want to help girls fight for their beliefs."

- Nia Taylor, 16 years old.
---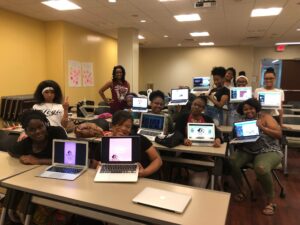 Girl Ambassador participants show off their creations after learning how to use the graphics tool, Canva.
---
Schooled – a campaign driven by girls themselves!
Girl Action Teams are one of our greatest sources of co-creation at Girls For A Change. Each school year we recruit Black girls and other girls of color to join a team and tackle a social justice issue with the help of a coach. In 2018, our "Schooled" Girl Action Team decided they wanted to speak out against unfair school dress codes and the harsh punishments they were receiving. The girls decided they would have a panel and invite the community to hear them out. They also met with the First Lady of Virginia and the School Board about the issue and proposed policy changes. Their efforts raised awareness for issues they face daily and got the attention of those in power. They also got a cover story in Style Weekly! When girls are at the forefront of decision-making, they can change the world. Tatum Holland, a 15-year-old at Girls For A Change, reflected on her power to make a difference at the organization.
---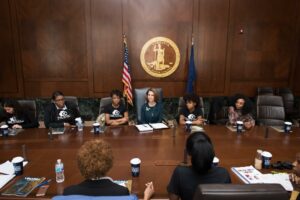 "Schooled" Girl Action Team meets with Virginia's first lady to share their experiences in Richmond schools and offer their solutions.
---
"GFAC gives me a place to do something meaningful and worthwhile even as a young woman, I know in the next three years this program is going to change communities for the better."

- Tatum Holland , 15 years old
Why we must go beyond listening
Investing in Black girls goes beyond listening to them and using their feedback in a nonprofit setting. Black girls success and empowerment is a larger societal priority that has been neglected. Unfortunately, funders are only interested in investing in hot button issues, which never seem to be Black girl issues. As invested as we are in our girls, the greater social impact community is not investing in us.
In order for our non-profit to give girls what they deserve, we need to get what we deserve. Lack of funds leaves us overworked and understaffed. When we become burned out, we can't continue to support the overwhelming needs our girls have. We also don't have the opportunity to hire talented staff who could help us in our mission. Being able to hire Black women who have the skill and talent to be a role model for our girls is necessary. Black girls need to see women who have beat the odds stacked against them.
How the community can invest in Black girls
There are lots of ways you can invest in Black women and girls (beyond writing a big check to Girls For A Change). Here are some suggestions for how to invest at a societal level:
Hire black women
Pay them equally
Fund organizations that are helping Black women in their future
Listen to Black women and girls
Volunteer for Black led organizations (volunteer opportunities at Girls For A Change here)
Partner with Black led organizations and offer them access to your network
Our goal at Girls For A Change is not to become a Billion dollar organization, it's to grow our reach so that we can impact a Billion Black girls and change the trajectory of their lives. If we have a Billion dollars but don't have a Billion girls loving themselves and knowing they are fierce, then the vision is lost. We want Black girls to be unashamed of who they are. To be unapologetically Black. We want to ensure that they have a path to success and mentors who look like them. We want them to know that it's ok to be clear and straightforward with their words and actions. When Black girls are seen, heard, and celebrated everyone wins.
Want to get on this moving train and support the next generation of Black girls for innovation, mental health, safety, education, and joy? Start by changing the narrative in your own mind on how you see, recognize, connect to and treat Black girls. See their magic and possibilities. When you do that, you'll see there's a clear return on investment.
---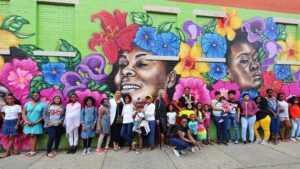 The Girls For A Change community celebrates Black Girls in front of the Girls For A Change mural downtown. The mural was created out of an idea from girls at Girls For A Change to help "Change the Narrative" around Black girls in their community.
---
Join our movement to help elevate and create joy that Black girls deserve by investing time, money, resources, and connections. You can learn more about Girls For A Change and our work to listen to, and uplift, Black girls here.
---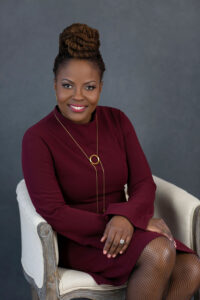 Angela Patton
As GFAC's leader, Angela has been recognized in the local Richmond, VA press as  Top 40 Under 40 (2010), by a coalition of girl serving groups in 2015 identifying Girls For A Change as one of five programs to note, establish a long-term partnership with the NoVo Foundation, by President Obama as a White House Champion of Change (2016), received the Nonprofit Partner of the Year (2018) from the Metropolitan Business League, and Richmond Times-Dispatch 2019 Person of the Year Honoree. Angela is an Ambassador for who she calls "at-promise" (as opposed to "at-risk") girls and a serial innovator. Angela is committed to "Preparing Black girls for the World …and the World for Black Girls."
In 2004, Angela founded Camp Diva to honor Diva Mstadi Smith-Roan, a five-year-old who died in a firearm accident earlier that year. That summer, Angela planned a two- week summer experience that gave Diva's mother an opportunity to share her motherly love with girls in need of a support system. In 2013, the program expanded nationally when Camp Diva merged with California-based Girls For A Change (GFAC), a nonprofit through which 100 girls' groups throughout nation work together to envision and execute lasting change in their neighborhoods, cities, or schools.
In 2016m Patton lead her national Board of Directors and staff retool the focus and build a program structure and provide space for girls to more accurately reflect GFAC's goal to work with Black girls and to disseminate our programs using a specific, replicable approach.
Angela's TEDx Talk describing a father-daughter dance for incarcerated dads and their "at-promise" girls has been viewed over 980,000 times to date. Following its release, Angela's work was featured on ABC's World News, Inside Edition, NPR's TED Radio Hour, and CNN's This Is Life with Lisa Ling. She has been in demand from corporations, at conferences on girls, as well as colleges and universities throughout the country.
When she isn't inspiring change, advocating gender equality, and promoting opportunities and empowering girls, she is hanging with her family in Richmond, VA, enjoying festivals and concerts with her husband and motivator, Raymond Patton and their loving children, Imhotep and Asani. Her interests include, spending a day at the spa, visiting the Caribbean islands, cardio kickboxing, watching documentaries, and attending dinner parties with close friends.