Andrew Robinson, No Boundaries Youth Organizers | April 28, 2021
---
Baltimore City, Maryland, is home to some of the most loyal, hard-working people in America. The Baltimore Harbor and the Baltimore Aquarium attract tourists from around the world each and every day. However, while Baltimore is known for all of these wonderful things, it's also known for one of the most egregious atrocities in the Black Lives Matter era, the murder of 25-year-old Freddie Gray by city police. Following the murder of Gray and subsequent acquittal of the officers involved, Baltimore experienced one of its darkest moments.  Riots broke out with residents and protestors from around the country taking to the streets to protest the killing of yet another Black man at the hands of the police without accountability.
After the uprising, many of the youth in Baltimore City expressed that they felt they didn't have any opportunities to voice their opinions politically and advocate for change publicly. In response to hearing this information from some of our most important stakeholders, we took action, forming the No Boundaries Youth Organizers (NBYO) in an effort to provide inner-city youth with the opportunity to partake in community organizing to make their voices heard. This program has grown into one of our most successful and rewarding programs in the years since the unrest.
Through this program, we listen to our youth and determine what events they want to do, how they are promoted, and allow them to guide public messaging. Shifting control to our youth ensures programming remains for the youth and by the youth, enabling them to use this platform to push for the changes they wish to see in their community. All in all, we believe that in Baltimore City, there needs to be more amplification of youth voices so that the future of this city continues to reflect them. Without this, the city will continue to ignore some of its most vibrant and intelligent rising young stars in a city that urgently needs new life and energy. 
In closing, we ask that those who read this continue to support summer youth programming in West Baltimore that allows us to provide city youth with much-needed enriching, paid summer employment opportunities. The No Boundaries Coalition has teamed up with nonprofit fundraising platform Network for Good to make it easy and secure to support our work.  If you would like to donate to support our resident-led youth programming, click here.
To learn more about No Boundaries Coalition, partnership opportunities, or other ways you can support our work, email [email protected] or visit our website and complete the "contact us" form.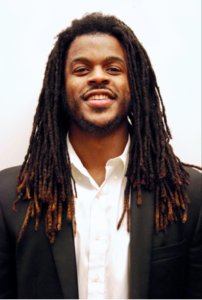 Andrew Robinson is a Communications Intern at No Boundaries Coalition in Central West Baltimore, Maryland. He is currently enrolled in the Collaborative Human Services Administration Masters Program, a joint program between Coppin State University, a historically Black university (HBCU), and The University of Baltimore. Robinson also holds an undergraduate degree in journalism and is currently pursuing opportunities to play professional basketball overseas.
His role at No Boundaries Coalition has helped him connect with youth and inspire the next generation of young journalists and creatives in Baltimore City. Feel free to reach out to Andrew through email at [email protected].
More about No Boundaries Coalition 

The No Boundaries Coalition is a resident-led advocacy organization building a unified and empowered Central West Baltimore across the boundaries of race, class, and neighborhood. Organized in 2008 by neighbors from either side of Eutaw Place, a historic neighborhood and racial dividing line as the Boundary Block Party, No Boundaries emerged out of the success of several successful Block Parties.  In 2010 that coalition of neighbors and leaders more formally met to discuss their larger vision of organizing, advocacy, and capacity building together as a commUNITY. The No Boundaries Coalition was born.
Since then, the No Boundaries Coalition has organized peace rallies, launched a produce market, advocated for equitable school construction and funding, provided leadership development, commissioned public art projects, hosted block parties, conducted walking tours and listening campaigns, and more. No Boundaries Coalition has also been a leading voice in police accountability. 
To learn more about No Boundaries Coalition, partnership opportunities, or other ways you can support our work, email [email protected] or visit our website and complete the "contact us" form. 
Follow No Boundaries on Social Media on Instagram, Facebook, and Twitter to stay up to date with news, upcoming events, and initiatives.