---
I remember the feeling I had after I attended my first Feedback Summit in 2015 – inspired and deeply grateful to be surrounded by people all working toward a vision of aid, philanthropy and government that is truly responsive to community desires. Over the course of two days, I was able to learn from others using feedback to plan and carry out community programs, and was able to build my own network of feedback leaders that could inspire me in my own work. This past April, I joined Feedback Labs as its CEO, and have spent time talking with our members and team to think about how to move the Feedback Summit to the next level.
This is why I'm excited to announce that the Feedback Summit, is now Feedback+, a series of gatherings in cities around the world that will allow feedback champions and newcomers to come together, learn from each other and from leaders from each host city so that we can shift this movement forward together.
The idea to move the Feedback Summit out of Washington DC, and to learn from the knowledge of local leaders who are walking the talk in their feedback practices, comes from participants' feedback on past Summits. Last year's Summit was a push towards more action. A group of leading web platforms, including Charity Navigator, Candid, and others, launched a beta version of the Feedback Principles and called for the community to apply the Principles to their work.Through a partnership with GlobalGiving, participating feedback champions included 10 Disaster Feedback Fellows who pushed us to think critically about how we're serving constituents, and asked us to get proximate to the issues at hand. Feedback from our post-conference survey highlighted that attendees wanted to hear from more practitioners, a more diverse set of experiences represented, and even more action.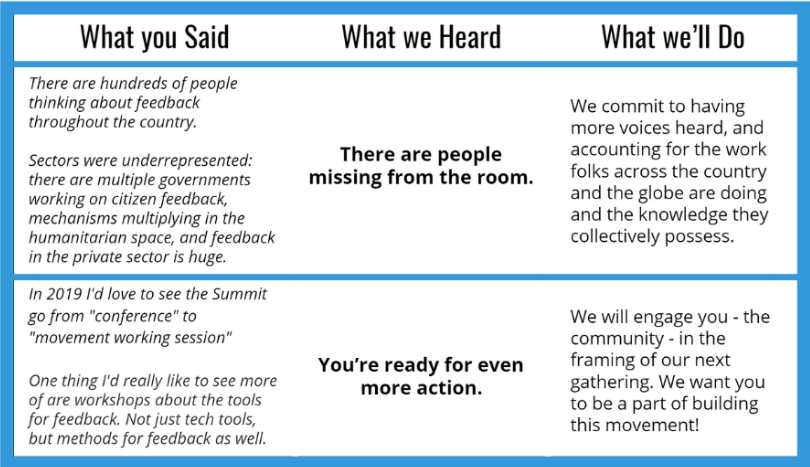 Based on this feedback, and subsequent conversations with many of you, we're kicking off our first big Feedback+ Summit in San Juan, Puerto Rico. In response to 2017's Hurricane Maria, Puerto Rican leaders have turned to their constituents to create sustainable disaster recovery efforts. In San Juan we'll meet people like Ana Yris, who has turned Nuestra Escuela into a resource and a beacon of hope that will mitigate the impact of future hurricanes for the entire community of Caguas. We'll meet Sofia, who co-founded La Marana to help citizens re-imagine the future of their community and collaboratively implement projects that reflects their shared vision. These examples are only a few of the feedback leaders in Puerto Rico, who we will learn from and with during this event.
On February 26-28, 2020, the Feedback+San Juan: Listening Reimagined Summit will bring leading philanthropic funders, government officials, nonprofit leaders, and aid representatives to connect and reimagine how we listen to communities we seek to serve with dignity.
But you don't have to wait until next year to participate in the feedback community. We will also be hosting a one-day Feedback+New York: The Case for Listening event on October 10, 2019, focused on research in action. We'll hear from researchers studying whether feedback truly leads to better outcomes, then we'll apply that knowledge to tackle challenges faced by communities in New York City.
We hope you're as excited as we are about these changes and hope to see you in New York in October and San Juan in February.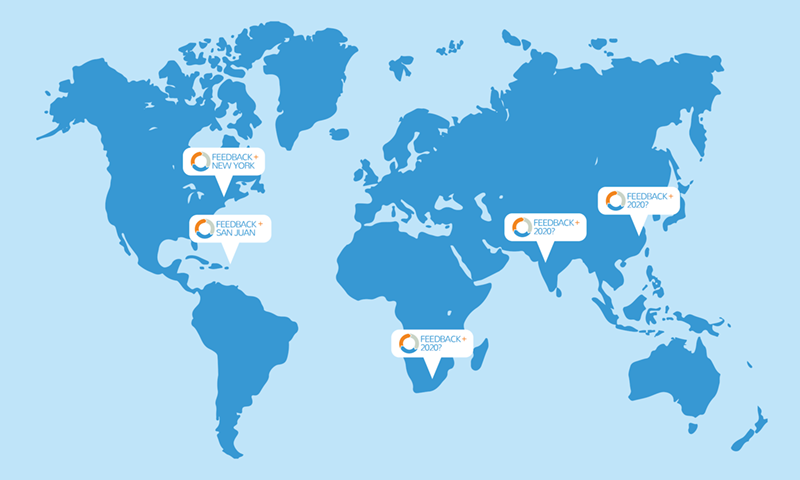 In the meantime, I invite you to:
Learn more about our upcoming Feedback+ events
Submit your ideas to lead a session
Pitch your city for a future Feedback+ event
I'm looking forward to hearing what you think! Let us know at [email protected]!