---
Bali Life is a small charity with a big heart. Since 2008, we have supported and empowered Balinese children and women through a variety of programs. Whether we are running a daycare center, school, sustainable farm, or our cataract surgery program, we focus on building deep relationships with the community. As the director of the foundation, I have a unique job of building trust with the people we serve. I take this role seriously and make sure that people here see that I am present and want to help. I make sure to connect face-to-face with people after the bandages from their cataract surgery are taken off. I visit all of our project sites frequently. My community must be able to trust me and see how closely I listen to their needs.
Indonesia and Bali were in a semi-lockdown in March and April because of COVID-19, which made getting feedback and communicating with people in person difficult. Thanks to our close connection with and commitment to the community, local leaders reached out to us directly with suggestions for how to help.
Community leaders told us that the shutdown in Bali's tourism economy had left members of the "sandwich generation" — which supports both children and parents — unable to afford food and basic necessities. We partnered with photographer David Biner to begin the People Must Makan campaign which provides two weeks worth of food and basic supplies to families who had lost their income due to COVID-19, the elderly, and people unable to work due to disabilities. While delivering food, Bali Life staff would conduct informal interviews with people to hear what they needed. The results were almost always basic necessities such as food and water filters. These "face to face heart to heart moments" are how we have always done feedback, and they give a good sense of what is important to the people we are helping.
Listening with an open heart is just one step to a successful COVID-19 response. Over the past few months, I have used many strategies to respond to community needs in a time of crisis. Here are some of the best ways to collaborate during a disaster and build active feedback loops with the community you serve.
Listen to your team. They have the best sense of what is happening in the community. My team is constantly outside delivering food and talking with people. That means they know who in the community has been impacted the most by COVID-19 and which resources can help the most people. This feedback is invaluable as an executive determining what resources to provide because I do not get the chance to be in the community as much as my team that provides the immediate support.
Work with the local government. The government often has information on who has lost their job or might not be able to afford food. This is a starting point of people to connect with and help. The People Must Makan campaign began by contacting the local government to identify families who lost their income due to COVID-19 along with the elderly and those who are unable to work due to disabilities. By connecting with local governments and using word of mouth information, we have already provided food packages to 2000 families.
Directly talk to beneficiaries. As an executive, replace time spent in meetings with listening times to learn how you can better serve the community. While delivering food we talk with people to learn who else and how else we can help. We have also utilized social media and word of mouth to advertise when we are arriving with food deliveries. People share when food deliveries will occur and share them with friends and family members, which increases the scope of people Bali Life reaches.
Connect with other organizations to cover the most ground possible when serving a community. There are many other community initiatives in Bali working to provide food to families impacted by COVID-19. Sometimes organizations overlap with a family or have extra supplies. When this happened, Bali Life and the other organization would leverage the feedback Bali Life gathered from community members and local leaders to get the extra food packages to other families.
Through listening to the team, the local government, other organizations in the area, and the people we serve, Bali Life has been able to respond to COVID-19 effectively and kindly. We have been able to reach more people in this time of disaster because of our deep connection with the community and our commitment to listening to their needs. We are here to help, and that starts with an open ear.
---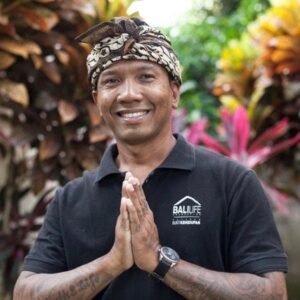 Piter Panjaitan is a father of two and the Director of BaliLife Foundation/ Yayasan Bukit Kehidupan Ungasan in Bali-Indonesia alongside his wife Lyna. He likes boxing, surfing and guitars, and helping people reach their maximum potential. BaliLife is focused on educational empowerment for underprivileged children, and giving hope, dignity and purpose to families. Piter is proud of BaliLife's work and their ability to respond to disasters – after the tsunami, they were able to help 2,000 in partnership with GlobalGiving.
Piter is excited to share his specific expertise about disaster response in archipelago landscapes and is looking forward to learning from other Fellows about how BaliLife can go beyond disaster relief and into disaster recovery.