---
Decades of armed conflict and violence have silenced residents in Colombia. In 2014, SOLE Colombia began a project to break that silence. SOLE (Self-Organized Learning Environments) is part of a global movement to use technology to empower groups to learn, collaborate, and most importantly, to solve real-life problems! In Colombia, they have reached more than 450,000 people of all ages in 2000+ schools, public libraries, and public spaces in collaboration with the government, private companies, the social sector and citizens.
This year, SOLE Colombia is partnering with the UN to celebrate its 75th anniversary with community conversations to imagine the future. SOLE Colombia convenes diverse participants from across Colombia to discuss issues such as gender, education, and the economy. Due to COVID-19, this is the largest experiment in remote conversation in the history of Colombia and is highly relevant for the national healing process.
As groups explore issues that they care about, they gain ownership to collaborate for positive change. Fostering belonging and momentum are key to the success of these groups, especially in this unprecedented remote environment, and this is the challenge that the LabStorm forum addressed. Here are the highlights from the conversation:
Redefine belonging.  LabStorm attendees noted that people's sense of belonging has changed since COVID because of the requirement to be remote. People have a range of motivations for participating in community activities including social inclusion and a sense of obligation, according to one attendee. How can SOLE discern what motivates people to engage in self-organized learning groups?  Participants encouraged SOLE to create multiple feedback loops to better understand why people engage and why being self-managed and autonomous is powerful. LabStorm attendees also reflected that they are motivated to engage when they feel heard during rich and meaningful conversations, and gain confidence that they are making an impact. SOLE Colombia is poised to play to these motivations, since their interactive visuals report out on conversation outcomes and that participants see that their voice made a difference.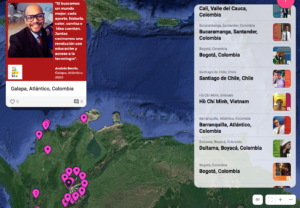 Interactive visuals from SOLE report out on individuals' contributions to conversations.
Create space for networks to self organize. Building networks is essential to scaling SOLE Colombia's self-organized learning process. LabStorm participants encouraged SOLE to utilize the diversity of its networks to gain scope and momentum. Social movements around the world are linking networks of networks and SOLE can apply this design to accelerate decentralized empowerment and collective impact. Attendees also emphasized that feedback loops are essential to keep networks of networks aligned towards their shared goals and interests. Feedback from members ensures that issues adapt to current realities and that all voices are heard.
Lean into the power of the human element using technology. The power of human-centered engagement is at the core of what makes SOLE sessions transformative. SOLE enrolls 'Ambassadors' and 'Grannies' to support groups to develop norms for respectful and inclusive conversation. Ambassadors serve as facilitators while Grannies promote encouragement and safe space for people to share authentically.  LabStorm participants assured SOLE that these roles and approaches are powerful. These key stakeholders will help SOLE evolve as groups gain experience in a digital context. One attendee proposed that learning group participants make short video clips of different members asking the guiding questions and sharing answers so that people can continue to connect deeply online. Participants shared apps that enable learning group members to have asynchronous conversations that SOLE can analyze and pull insights from. LabStorm attendees encouraged SOLE to continue to be creative and adaptive because if people see their impact, they'll be motivated to stay engaged, even if it is online.

This LabStorm showed us the importance of creativity and adaptability in our ever-shifting world. The world is changing, so we must change the world. Do you have recommendations for SOLE Colombia as they reimagine the world in conversations online? Please let us know by sending a message to [email protected]. Want to support SOLE on their mission to foster conversation? Check out their GlobalGiving page here.