FBL Staff | March 31, 2021
---
Feedback Labs began in 2013 as an informal weekly lunch among eight aid organizations in Washington, D.C. that were committed to shifting their work to better center the feedback of the communities they served.
A few short years later, the lunch table has grown into Feedback Labs. The conversation has continued and expanded to include a community of hundreds of organizations committed to making feedback the norm in aid, philanthropy, nonprofits, and government.
Feedback Labs continues to serve nonprofits, governments, and funders to design and implement feedback loops that center constituents. One of the most consistent trends we see is organizations not feeling equipped to get started with their feedback practice.
So… we've designed a webinar with you (yes, you) in mind! 
Whether feedback's role in your work is entirely new to you, you have a feedback practice that's not yet systematic, or you are listening, acting, and closing the feedback loop every time (woo-hoo!), we invite you to join us on April 6th for this FREE 30-minute training. 
Led by Feedback Labs Trainer Kyende Kinoti, this webinar will address: "What is 'feedback' and why does it matter?".  Whether you're coming from a nonprofit or a foundation, this half-hour webinar will equip you with the fundamental knowledge to incorporate feedback into your work. 
In this virtual presentation, we will:
Define feedback loops
Share powerful examples of how nonprofits and foundations are implementing constituent feedback loops
Illustrate the promise of feedback in supporting the people you seek to serve
Leave you with some great tools, resources, and next steps
Listening and acting on feedback from the people you seek to serve can help leaders at all levels of nonprofits and foundations strengthen their relationships with their communities, achieve better outcomes through their work, and achieve more significant equity. 
Join us virtually on April 6, 2021, at 11:00 AM, EST

This webinar is for leaders at all levels of nonprofits, governments, and foundations looking to learn how to use feedback to strengthen your work!

This webinar is FREE, but seats are limited! 

Register today: bit.ly/april6-webinar 
Join us to learn how you can use feedback to strengthen your work! Please note, registration is limited to just 100 participants, so don't delay! 
Learn more about your Feedback Trainer: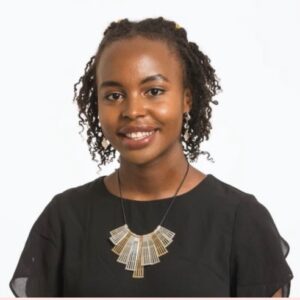 Kyende Kinoti (she/her) is Feedback Trainer and supports the Product Team at Feedback Labs. She is originally from Nairobi, Kenya, and has also lived in Johannesburg, South Africa, and Paris, France. Kyende is a strong advocate for decolonizing development. Kyende is a graduate of the University of North Carolina at Chapel Hill where her senior honors thesis looked to understand the Black Consciousness Movement of apartheid South Africa as an ontological resistance movement. In addition to her passion for supporting positive social change, Kyende enjoys creative nonfiction, writing, reading, hiking, and playing soccer in her spare time.