---
Day one of Feedback+San Juan was filled with compelling conversations, lively activities, meaningful connections, and even dancing!
With so many sessions and activities packed into one day, we need a bit of a recap. Ready to rewind on day one of Feedback+San Juan?
Feedback Fellows kicked off the day with breakfast Affinity Tables. Lymari Benitez of Pace Center for Girls held a conversation on listening to youth feedback. Doussouba Konate of Accountability Lab Mali put attendees in the shoes of the various stakeholders who play a key role in their data collection in her session on what to do when feedback goes wrong. And Yvonne Petrasovits of Doorways NWFL dove into a brainstorming session about innovations in housing.
Lymari Benitez of @PaceCenter hosts breakfast session on listening and acting on youth feedback. #fblsummit pic.twitter.com/ciQQo9QBYZ

— Fund for Shared Insight (@4SharedInsight) February 26, 2020
We kicked off the day watching a video created by La Maraña, a Puerto Rican organization that is striving for a just recovery for the island, and one of the many inspiring groups that initiated a  Feedback+ summit coming to San Juan.
Then, local community leaders Ana Yris Guzman, Sister Nancy Madden, Mariolga Juliá-Pacheco, Glenisse Pagan-Ortiz, and Francisco Susmel set the stage for the day in their opening plenary talk. They dove into the complex and challenging social and environmental conditions of feedback in Puerto Rico following devastating hurricanes in 2017. 
So proud of our founder @PECESNANCY, who represented us today! https://t.co/szfjcK4QU7

— Proyecto PECES, Inc. (@proyectopeces) February 26, 2020
Our first session of the day began with a great video on how @La_Marana_PR envisions a just recovery for Puerto Rico. Come listen to these inspiring ideas! #fblsummit pic.twitter.com/9mzbLHAMoR

— Feedback Labs (@FeedbackLabs) February 26, 2020
Morning breakout sessions explored the Feedback+San Juan themes of Innovation, Identity, and Power though a variety of formats – including a thread-weaving interactive workshop.
"It's the right thing to do and the smart thing to do to engage participants in designing the research questions," says @jenniferalaird re: @RTI_Intl @REDFworks research. "Researchers may not have the right contextual knowledge." #fblsummit pic.twitter.com/vJhZDndvCA

— Fund for Shared Insight (@4SharedInsight) February 26, 2020
@ayudalegalpr and Proyeto Matria helping us think about power structures and social inequalities in disaster affected areas- highlighting Puerto Rico @FeedbackLabs #Fblsummit pic.twitter.com/x5TSRXsvql

— Sandrina da Cruz (@SandrinadaCruz) February 26, 2020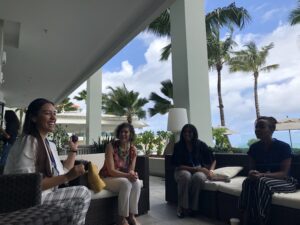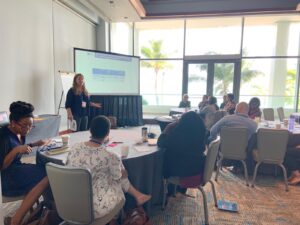 After a networking break (and some delicious local pastries!) attendees settled into a panel featuring disaster relief experts from across the world. Speakers from Puerto Rico, St.Thomas, Afghanistan, and South Africa spoke on the importance of community feedback for sustainable disaster relief.
It was such an honor to present our experiences and innovative approaches @AhrdoAfg has developed at this wonderful event and unique gathering of humanitarian leaders and feedback practioners. https://t.co/sLNf48lMXA

— Jawad Zawulistani (@Jawadniki) February 26, 2020
Agradecido de participar en la cumbre de FeedbackLabs como speaker junto a colegas de Afganistán, Israel,Syria, St Thomas y PR. Un espacio que reúne más de 100 organizaciones a nivel mundial comunidades. Seguimos! ???????? ???????? ???????? ???????? ???????? @redenijpr @FeedbackLabs #RedPorLaNiñez #FBLSummit pic.twitter.com/pUW4acM5f9

— Marcos Santana (@marcossantanapr) February 26, 2020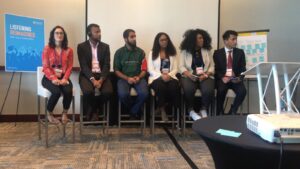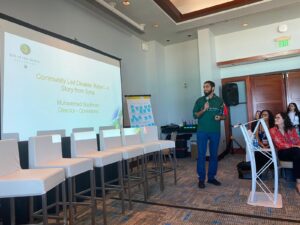 Buzzing with excitement, attendees boarded buses and headed out for the final session of the day: LabStorm site visits. These unique sessions began with a site visit of a local organization doing great listening work and ended with a LabStorm collaborative problem-solving session, where local community members, nonprofit leaders, activists, and Feedback+San Juan attendees from all over the world worked together to come up with solutions to feedback challenges. These sessions helped connect local changemakers to the global Feedback Labs network and created unique dialogue between diverse perspectives.
Deeply inspired by the collaborative, equity-centered design led by the women of the La Conde Project in Puerto Rico—fighting erasure to keep their rights to land (previously marked as a landfill site) and designing *with* their community to rebuild their local school. #FBLSummit pic.twitter.com/Yi3LphaDME

— Reboot (@theReboot) February 26, 2020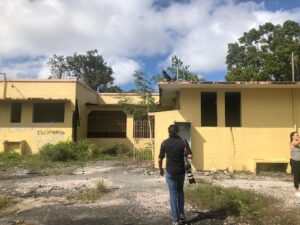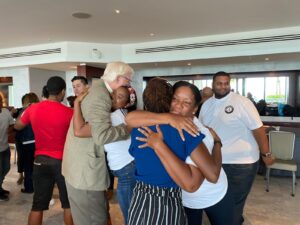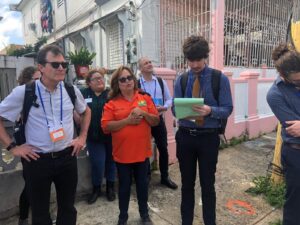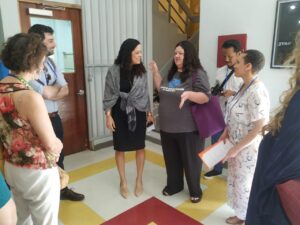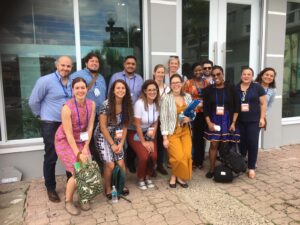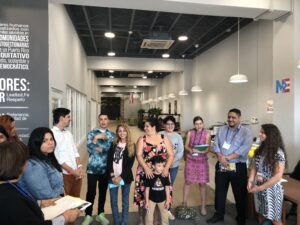 At the end of such a productive first day, everyone deserves a bit of celebration. After returning from LabStorm site visits, Feedback+San Juan attendees gathered for a reception with mojitos and hors d'oeuvres on an outdoor terrace overlooking the ocean. Local feminist band Plena Combativa played a set of songs based on their perspective on the government, corruption, and patriarchal social structures. The music connected meaningfully with the conversations from the day – and sure got attendees dancing. We closed out the day as the sun set on many happy, energized faces, ready to do it all again tomorrow.