---
The Accountability Lab is making governance work efficiently for the public by supporting active citizens, responsible leaders, and accountable institutions. There have been various approaches around the world to build accountability especially by "naming and shaming" or "finger-pointing" the power-holders. This process has mostly led to an environment of negativity and distrust between different stakeholders. Realizing this, the Accountability Lab is using positive mechanisms and processes for accountability shifting norms to "naming and faming" and building a culture of feedback among stakeholders which ultimately builds trust and an environment conducive to collaboration between citizens, government and other stakeholders.
In Nepal, one of our programs named the Civic Action Team, or CivAcTs previously known as Citizen Helpdesks, has promoted a culture of feedback on issues related to accountability in disaster relief processes, foreign labor migration, and open government through fiscal transparency across 17 districts. The CivAcTs are pioneering citizen feedback, dialogue, and community voice platform which bridges the gap between local community members and power holders creating an enabling environment for collaboration by building trust between them. The CivAcTs is facilitated with minimal outside intervention by trained dedicated group of volunteers, who are active youth from the diverse sectors in the community. Data is gathered by trusted community members called Community Frontline Associates (CFAs), analyzed by the Accountability Lab, and disseminated back to the community in creative in useful ways such as infographics and via local radio stations. Additionally, this feedback is fed up to power holders to amplify communities' voices in decision-making from the ward to national level. A final step in closing the feedback loop through convening – bringing together communities and local government in facilitated town hall meetings to discuss findings, validate data and co-create solutions to challenges.
More than 1500 migrant workers go to the Gulf and Malaysia daily from Nepal. Migrant laborers are vulnerable to exploitation, and support services for them and their families are centralized and often inaccessible. Additionally, returnees often need support to re-establish themselves in the local labor force, or to start their own small ventures. After Nepal's decentralization process and local elections, CivAcTs has supported communities to create feedback and grievance redressal mechanisms for migrant workers at the local level. This blog highlights three key learnings and impact from experiences of bridging the citizen-government gap through CivAcTs particularly, particularly around foreign labor migration.
1. Collective voices from the affected communities prove to be the most powerful. The CFAs include communities at every step in the process of change to keep conversations going and ensure feedback is communicated back to them. This has increased community trust, given communities a sense of ownership in the CivAcTs process, and cultivated active participation and support for social change.Working on labor migration in Nepal, the network of 429 returnee migrant workers across 7 districts and 15 local government units joined CivicAcTs to bring their needs and ideas to power holders collectively. Then, with the support from our CFAs, they engaged with their local government units through town hall meetings and mini-consultations. As these groups were organized and were providing feedback collectively, the local government units were ready to take the feedback they provided into consideration. The constant engagement led to the local government units adding the migrant workers to their key stakeholder groups during their program planning and execution, which gave returnees direct access to influencing programs aimed supporting their needs. Additionally, eight local government units have already allocated a budget of total NRS. 5, 500,000 (almost $50,000) to support migrant workers in entrepreneurship, agriculture, and welfare services.
2. Real-time feedback helps the government make evidence-based decisions. Including citizens' voices in decision-making can be seen as a burden. Under-resourced government units using traditional approaches in an environment plagued by corruption often lack the incentive to hear from their constituents directly. Furthermore, they do not see the value of meeting and interacting with the public and getting bombarded with questions and complaints. To change this scenario, the CFAs facilitate the process in a way that centers engagement on real-time feedback instead of questions and complaints. This created a space for constructive dialogue – which was welcomed by citizens and power holders alike. After understanding the severity of the issue of labor migration in their own communities, and a dearth of data on labor migration, the local government units have started allocating parts of their budget for surveys to collect the data of migrant workers and assess their needs. Panauti Municipality is the first one to allocate funding and conduct survey research, other municipalities are using it as a model and are replicating it.
3. Increasing the local knowledge base is as important as engaging the community for change. Although the government units and the migrant workers are ready to work on migration they need a knowledge base and technical support to turn ideas and solutions into tangible, implementable plans. The trained CFAs have become resources to the local government in planning and executing their feedback collection. Furthermore, some local government units have asked CFAs to train others on foreign labor migration to raise awareness. Through CivicAcTs, we have learnt that real change can and should be driven by communities, using local knowledge. Our Open Migration Champions and CFAs are now turning into real change-makers equipping others and driving advocacy.
To conclude, collective action and real-time feedback can be a key to changing government decisions and practices to help them make evidence-based decisions. Accountability Lab strives to create a platform for sustainable use of feedback mechanisms as a catalyst for greater collaborative problem-solving, trust-building and self-advocacy in affected communities.
---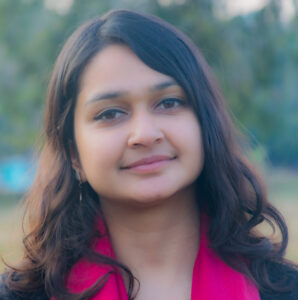 Soni is currently the Programs and Learning Manager at the Accountability Lab Nepal where she contributes to program design, monitoring, evaluation and learning, and overall organizational development. She has almost five years of experience in social science research, impact assessments, and monitoring, evaluation, and learning. Prior to joining the Lab, she worked as a consultant for the evaluation of the Diakonie Katastrophenhilfe Nepal Earthquake Response Program andthe USAID Baliyo Ghar project. She also worked as a Research Assistant with Social Science Baha, a renowned research institute in Nepal. Her interests include labor migration, gender, governance, and climate change. She holds a Master's degree in Development Studies from the University of Sussex and a bachelor's degree in Social Work from the University of Mumbai.