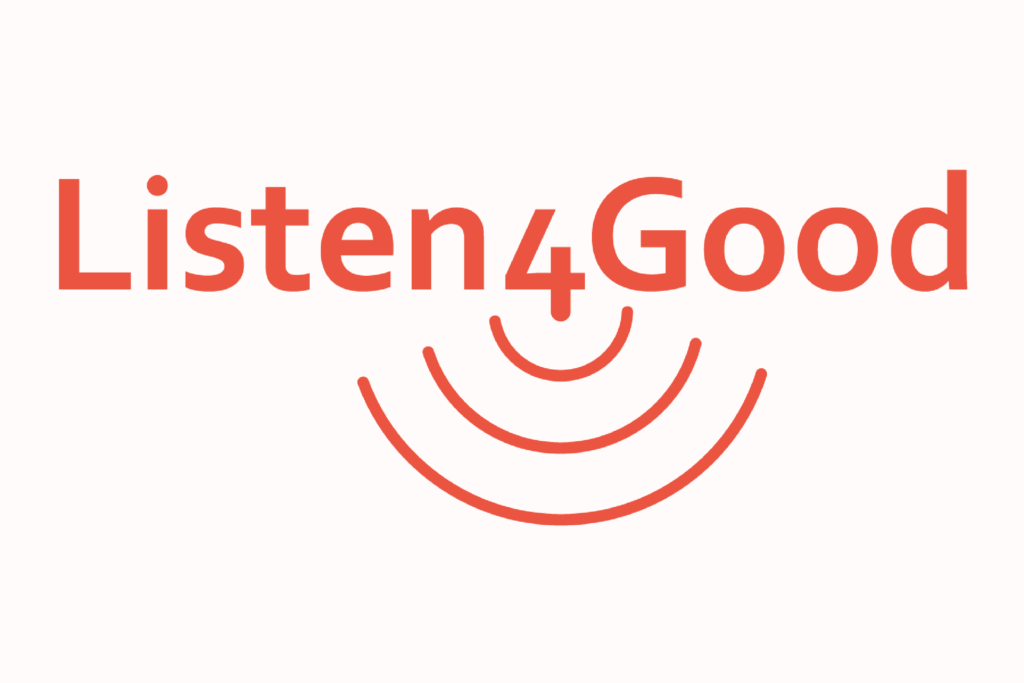 Listen4Good (L4G) is Fund for Shared Insight's signature initiative helping direct-service organizations build sustainable, high-quality, client-focused feedback loops that lead to meaningful change.
Since 2016, Listen4Good has supported nearly 550 customer-facing nonprofits — across issue areas, communities, and budget sizes — implement a proven survey methodology that offers a simple, yet systematic and rigorous way to listen to and respond to clients. Grounded in the principles of equity, diversity, and inclusion, Listen4Good helps nonprofits listen to those whose voices are least heard.
Two new programs for 2021, Listen4Good Online+ and Listen4Good Premium, offer expert resources and support for nonprofits to move through the feedback-loop building process with varying levels of coaching support. Participants in all L4G programs receive unlimited access to a purpose-built interactive web app, featuring step-by-step tools and guides; a premium SurveyMonkey account to analyze data, and one-on-one coaching; other benefits include access to a  virtual helpdesk, group-learning opportunities, industry benchmarks, and an online peer-exchange platform, L4G Community.
Electronic surveys, Paper surveys, Interviews, Benchmarking, Portfolio-level analysis
High tech: Smart phone/tablet apps, requires internet
Low tech: SMS, phone calls, radio, IVR
No tech: Pen/paper
Multiple Languages, English
"The way we heard from patients was unorganized and lacked actionable data… Decisions made for the patients were based off of staff feedback rather than patient feedback. Because of this, there was no intention to follow through with the patient and close the feedback loop; it was merely a linear process. That has been the greatest opportunity given to us through Listen4Good: implementing a perpetual feedback loop that begins and ends with the patient."
Karin Pimentel
Quality Improvement, Compliance & Risk Manager, Marin City Health & Wellness Center
"They taught us how to solicit feedback. They taught us what to look for in feedback. They taught us how to analyze the data. They brought us together with big groups and taught us more about feedback loops. You know they really just sprinkled the change, the seeds of change within the organization."
Cathy Moore
Executive Director, ECHOS
Listen4Good can help you in the following stages of your feedback journey:
L4G's "design" step includes designing the survey by employing simple yet flexible data collection approaches.
L4G's "collect" step involves capturing a large number of representative client voices and gathering credible, candid feedback.
L4G's "interpret" step identifies areas for celebration and areas for improvement, while shedding light on differential experiences across specific client groups.
L4G's "respond" step engages organizational decision-makers (and external stakeholders, such as funders) to learn from client feedback and implement changes based on what is learned.
L4G's "close the loop" step, critically important and often the most challenging, closes the loop by sharing back with clients what was learned from listening to them and the specific ways that an organization is responding to their feedback.
Listen4Good is a unique and effective capacity-building program that provides participating organizations with a free premium SurveyMonkey account; unlimited access to the purpose-built, interactive Listen4Good web app, and access to other perks, including virtual office hours, video tutorials, and an online peer-exchange platform, L4G Community. Listen4Good Premium participants receive one-on-one assistance from a dedicated coach throughout the process. Listen4Good Online+ participants receive assistance from a pool of coaches upon request during key parts of the process, such as when getting started with survey design, reflecting on feedback results, and planning the next feedback cycle.
Listen4Good helps direct-service organizations build the infrastructure to use client feedback to spur and inform improvements in the way they work, make decisions, deliver services, and partner with clients. Listen4Good also creates more meaningful connections among nonprofits, funders, and the people and communities they seek to serve.
Method and Tech Requirements
Organizations use an easy-to-follow roadmap, suite of tools, and specially curated support to move through Listen4Good's proven five-step capacity-building process. Working on the resource-filled Listen4Good web app and with a feedback coach — and with access to video tutorials, peer examples and benchmarking — organizations create thoughtful and useful survey systems for repeated use with clients.
For 2021, Fund for Shared Insight is offering Listen4Good Online+ and Listen4Good Premium at subsidized fees of $1,000 and $6,000, respectively. The fees can be paid for by participating organizations or by sponsoring funders interested in supporting their grantees' feedback efforts and/or using the feedback to inform their own grantmaking. If funders support multiple grantees to participate in Listen4Good Premium, Listen4Good can facilitate communities (virtual or in-person) across a portfolio and provide customized portfolio-level insights. Funders are also encouraged to make capacity-building grants directly to L4G-participating organizations, as needed.
To participate in Listen4Good, organizations must be 501(c)(3) public charities or a government agency based in the United States (including all territories, states, and the District of Columbia) with their work focused domestically.
The L4G survey's standard questions are available pre-translated in Spanish, Chinese (traditional characters), and Vietnamese. For all custom questions and for all questions in other languages (55 languages supported on app), you will need to provide your own translations. If you would like to implement the survey in a language that is not one of the 55 supported on the app, the survey will need to be done offline (e.g., on paper, via phone) with the data then manually entered into SurveyMonkey.
Case Studies
Watch or read stories about the impact of listening and feedback at nonprofits around the country, including these mini-case studies:
Partners
To date, nearly 550 nonprofit organizations and government agencies have participated in Listen4Good, leading to meaningful improvements to programs and services based on their clients' needs and preferences. More than eight out of 10 participating organizations report making changes based on their feedback learnings, and the strong majority of participants say they would recommend Listen4Good to another organization, garnering Listen4Good an NPS rating of 73. More than 100 funders have sponsored organizations' participation in Listen4Good, with many reporting that the experience changed their own practices around listening to grantees and clients. 
Featured on the Feedback Labs site