So much happened on Day 1 of Feedback+Atlanta! We heard numerous great speakers and many fascinating topics were covered.
The day started off with a delicious breakfast where attendees had the opportunity to mingle amongst themselves or join a Breakfast Table with Anne Meysenburg, Natalie Garcia, and Gladys Teos. 
The #FBLSummit is underway! Attendees are fueling up for the day, mingling with others, and partaking in Breakfast Tables to chat about how they're using feedback in their organizations! pic.twitter.com/PYmYrGkwoN

— Feedback Labs (@FeedbackLabs) February 8, 2023
Following breakfast, Fay Twersky, Art Taylor, and Aly Rahim gave us an official kickoff with the Welcoming and Opening Plenary moderated by Jean-Louise Sarbib. The presenters walked us through the last ten years of the feedback field, and how we can take what we learned to shape the next decade. They spoke about some of the challenges of feedback such as how to navigate between experts and those who may not have as much formal knowledge, but still have valuable insights, as well as the need for both movements and institutions to drive change. Additional takeaways included the need for people to be comfortable hearing from others in order to engage in good feedback practices and that people's voices are powerful forms of data.  
Thank you to @FayDTwersky @Aly_Rahim @H_Art_Taylor & @jls5644 for a fantastic Welcome & Opening Plenary! Presenters spoke and answered questions about the past + future of the field, empowering communities leaders, and the impact of data collection & listening #FBLSummit pic.twitter.com/bNhX6OBGkW

— Feedback Labs (@FeedbackLabs) February 8, 2023
Next, attendees went to morning breakout sessions where presenters spoke on a variety of topics related to the summit's themes of Advancing Equity, Shifting Power, and Uncovering Evidence. In "Building a culture of feedback: closing the loops between funders, grantees & communities" Kathy Park from Evident Change pointed out how important it is to feedback close loops, with the other four sessions sharing similar sentiments. 
After a busy morning, we had a great Movement Makers Lunch with Kelley Gulley and Fay Twersky from the Arthur M. Blank Foundation who is our presenting sponsor for this year's summit. We were guided through a conversation about how we can collectively shape the feedback field together, beginning with a question about a time we championed listening, moving to how our organizations are putting feedback into action, and finishing with how we can use feedback to advance equity. 
What a delicious and inspiring Movement Makers Lunch led by @FayDTwersky & Kelley Gulley! We hope you had the chance to share how you're championing listening, how your organization is putting feedback into action, and how feedback can be used to advance equity! #FBLSummit pic.twitter.com/hrtHk3V16k

— Feedback Labs (@FeedbackLabs) February 8, 2023
The afternoon consisted of more Breakout Sessions with five different options for participants to take part in. "Prototype party: how do we tell when nonprofits are listening well?" and "'Talk to us First!': The Predictive Power of Youth Perception" were especially interactive with people writing down their ideas on why youth voices are seldom included and helping the Irritants for Change prototype ways to share how they're listening.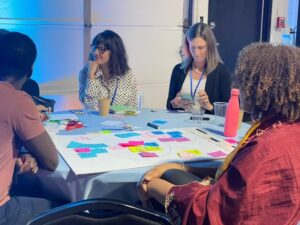 Yvonne Belanger, Yon Jimenez-Macuso, Ahmed Whitt, and Jen Wilka then gave a great closing plenary focused on the theme of Uncovering Evidence that delved into the current research being conducted around feedback that demonstrates how it can predict programmatic outcomes. They shared the importance of responding to both negative and positive feedback, the need to ensure that the measures being used are appropriate and understood by the community being evaluated, and their organizations' plans for future research.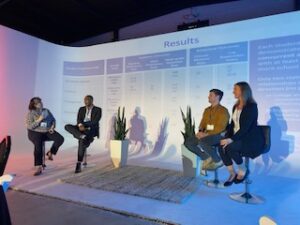 To close out a packed day, we concluded with the Reception where everyone got the chance to mingle, unwind, and visit the food and ice cream trucks! We hope everyone enjoyed the first day of Feedback+Atlanta and is excited for the next two days!