Satonya Fair, PEAK Grantmaking  | August 27, 2021
---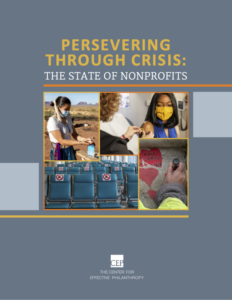 The Center for Effective Philanthropy's latest research report, Persevering Through Crisis: The State of Nonprofits, provides further evidence of the devastating impact of 2020 on nonprofits — and how the crises of the past year hit some nonprofits much harder than others. While many nonprofits reported that their foundation funders were flexible, responsive, and communicative, this was not the experience for a great number of nonprofits that are led by women, that serve certain marginalized communities, and organizations for which both are true.
Consider these findings:
Compared to organizations led by men, woman-led nonprofits (68 percent of survey respondents) were less likely to hear from their foundation funders about future funding or allowing the goals of their existing grants to shift.
Among nonprofits who primarily serve Asian, Pacific Islander, Middle Eastern, or Native American communities, most reported that no foundations provided new funding in 2020.
Moreover, compared to organizations that do not serve those four communities, these nonprofits report that fewer foundations lifted up the individual voices of their organization – or the people and communities they serve – to inform public discourse.
As a woman leading an organization in a field where the majority of organizations are also led by women, it feels devastating and defeating to read those findings. Why isn't philanthropy showing up fully and equitably to meet the profound needs of nonprofits – needs which have never been more acute?
For PEAK, a nonprofit and philanthropy-supporting organization centered on equity, we found the challenges of racial unrest, pandemic politicization, and a never-more-contentious election season as overwhelming as the pandemic's health and economic impacts. Amidst all this, our membership community of 6,000 grants professionals needed solutions – true support for the work of swiftly and equitably delivering responsive, flexible resources to nonprofits facing urgent demands.
And so, at a time when 58 percent of our nonprofit peers reported reducing programs or services, we put our foot on the gas.
Across 2020, we hosted a series of virtual community conversations, created spaces for peer convening and sharing, fielded a virtual conference, and expedited the rollout of resources to help Drive Equity, the third of our Principles for Peak Grantmaking. Most recently, we launched peer groups: affinity groups based around identity, serving those who are most often marginalized within their institutions. This project includes building communities of practice around shared commitments to drive and implement field-wide change.
Through our nonprofit lens, PEAK's experience as a grantee and grant seeker this year fit in line with many CEP survey respondents; the time and effort to apply for grants did not seem vastly different in crisis times. However, with 53 percent of grant seekers reporting no capacity-building support, 66 percent reporting no multi-year support, and 81 percent reporting no unrestricted multi-year support, it might be valid to conclude that – while nonprofits are pressed to be more dynamic and innovative in how we work – too many funders are a bit stuck in their ways, unable to "fund outside the box."
Program and grant staff have so many things they could be digging into, but are held back by their position descriptions – dominated by activities that any reviewer could see are transactional, check-the-box tasks instead of the relationship-building, partnership-driven work that could truly connect them with their nonprofit partners. The result, even in a crisis, is that few funders could make it from point A to point B – to hear what nonprofits need and take action to help – without making multiple stops for the requisite presentation-and-approval routine.
PEAK is dedicated to supporting continuous improvements in grantmaking practice and hopeful for a future in which philanthropy is "generative and not extractive," an ideal set by Justice Funders in their PEAK2021 keynote address. To that end, it was befuddling to find that some funders seem to have added even more steps for grant seekers, become even less flexible while leaning further into their inequitable practices during these urgent times.
This has led us to make several observations:
Mission-aligned organizations can and should be funded via the most streamlined processes possible, especially given the crises at hand. Indeed, for nonprofits that have been previously funded, there is nothing preventing funders from eliminating any process other than GuideStar verification, confirmation of ACH banking information, and acknowledgment of receipt.
Funders should view their grants and processes through a spectrum of data points – at minimum, they should be tying the size of a grant to a nonprofit's overall budget. If an organization is working with a budget of $500,000 and facing a crisis-inspired increase in demand, what do you expect a "responsive" grant of $5,000 – or even $15,000 – to accomplish?
Candid dialogue and open feedback must become a priority for grantmakers. Nearly half of respondents (48 percent) reported that grant funding levels either remained the same or decreased between 2019 and 2020, implying a concerning disconnect between funder and funded. Without creating an open communication channel for candid discussion, funders can't really know the nonprofits they fund, leading them to make decisions counterproductive to their partners' efforts.
Funders must do the work to look harder at the demographic data in their grantmaking portfolios. Nonprofits are reporting disparities in support and flexibility during a crisis, and every funder has the data to both confirm these gaps and track progress toward fixing them. By indexing nonprofit grantees according to the demographics of their leaders, they can then compare details like communication activities recorded, grant size, and reporting requirements. This can reveal whether, for instance, a funder is providing more general operating support or larger amounts of funding to nonprofits with white leaders.
The pandemic revealed that only a small percentage of funders had developed the agility that nonprofits need in a crisis – and that what matters is not just what we do, but the "how" behind it. Because funders have not invested in their respective infrastructures, they have fallen short in response to the most historic moments of need.
We can and should do better. By narrowing power gaps, increasing dialogue and candor, and fostering deeper understanding between funder and nonprofit, we will be prepared when the next crisis happens. Because there will be another – and sooner, no doubt, than we would like to think.
More about the author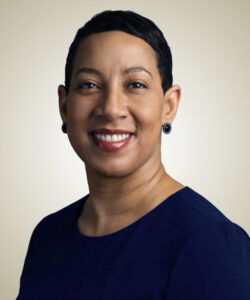 Satonya Fair (she/her/hers) is the first President and CEO of PEAK Grantmaking. A leader in the grantmaking field, Satonya brings with her a decade of engagement with PEAK, from her longtime conference participation as speaker, sponsor, and co-chair, to her dynamic service on the Board and executive committee. Her contributions and her leadership have been integral to many of PEAK's successes, and to some of the field's boldest stands.
Satonya's experience with the social sector, and its people, stands in tandem with her deep understanding of PEAK's membership and mission. She has served as Vice President/Chief Philanthropy Officer at The Executive Leadership Council, as Director of Grants Management at The Annie E. Casey Foundation, and in management roles in community relations at Citi. Satonya earned her JD from the University of Cincinnati and her bachelor's degree in psychology and political science from Miami University (Ohio). She is a graduate of the Career Pathways executive leadership program at the Council on Foundations and is a certified Prosci(R) Change Management practitioner. In addition, she is an active volunteer with many initiatives, including the Technology Association of Grantmakers and the Maryland Philanthropy Network.
PEAK works tirelessly to drive change in the practice of philanthropy and provide a framework for equitable grantmaking. Satonya is the ideal leader for this work, and we look forward to working with her and PEAK's exceptional staff to guide grantmaking practice toward inclusivity, equity, and understanding. Follow PEAK Grantmaking on Twitter at @PEAKgrantmaking.
More about PEAK Grantmaking

PEAK Grantmaking, an acronym that stands for Principles, Equity, Advocacy, and Knowledge PEAK Grantmaking is a vibrant member-led community of philanthropy professionals dedicated to advancing equitable, effective grantmaking practices. Our vision, mission, purpose, and values boldly convey our goals and aspirations for PEAK's next chapter.is a community of 6,000 philanthropy professionals advancing equitable, effective grantmaking practices. We believe in principled grantmaking practices that align funders and nonprofits as equal partners in advancing their respective missions and strategic objectives. Narrowing the power gap and ensuring that funders live their values through their grantmaking practices will result in positive change for the causes and solutions we seek to collectively advance.
To learn more about PEAK Grantmaking, to support their work, or contact their team, visit www.peakgrantmaking.org or connect with them Facebook and Twitter. General inquiries can also be sent to [email protected].