---
Over the past three days, attendees have connected, collaborated, laughed, and danced, on their journey to reimagine listening. Today, although Feedback+San Juan has to come to an end, our community committed to continued action as each individual made connections and shared their energy to bring these lessons back and enact action at their own organizations.
Here's a recap of the final day.
This morning started off with breakfast Affinity Tables, where Feedback Fellows dove into lively conversations about feedback. Piter Panjaitan of BaliLife Foundation convened a group to speak on the ways that religion, culture, and geography factor into natural disaster preparedness in Indonesia. Jawad Zawulistani of Afghanistan Human Rights and Democracy Organization held a conversation on creative ways to make feedback fun.
Opening plenary explored the important role that funders play in encouraging and supporting their grantees to improve how they listen. In a panel moderated by Melinda Tuan of Fund for Shared Insight, Three Puerto Rican funders – Mary Ann Gabino of Community Foundation of Puerto Rico, Rebeca Vicens of Filantropia Puerto Rico, and Carlos Rodriguez of Flamboyan Foundation – shared ways to support their grantees to listen better in one of the most fast-moving, high-stakes sectors: disaster recovery. If they can do it, then all funders can!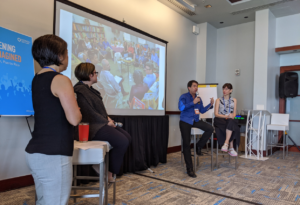 How a solar community was born! Staff from @FComunitaria went to Toro Negro to support w/ a water tank, but community said what they really needed was support w energy; solar energy! When founders listen and adjust to community needs! #FBLSummit @MelindaTuan @4SharedInsight pic.twitter.com/KNSQUNtFqv

— Benny, Project Style (@Morena1017) February 28, 2020
Carlos Rodriguez of @FlamboyanFDN describes the importance of trust to channel money that supports community priorities. #FBLSummit pic.twitter.com/RdJSPZnQJ5

— Feedback Labs (@FeedbackLabs) February 28, 2020
Morning breakout sessions focused on the importance, and the challenge, of collecting unbiased feedback.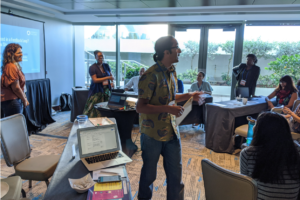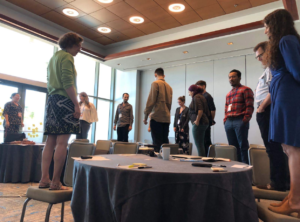 This morning, @louisbickford led a discussion about understanding the needs of the HIV-positive community in Puerto Rico. It is so vital that individuals have their voices heard when it comes to their own health and care and we were glad to be talking about it. #FBLSummit pic.twitter.com/xrEqNkdZGX

— Feedback Labs (@FeedbackLabs) February 28, 2020
MJ Kaplan of Kaplan Consulting and @Loomio also addressed bias by pointing out how homogeneous networks can exacerbate it. But she also talked about the benefits of "networks of networks" in building adaptive and flourishing communities. #FBLSummit pic.twitter.com/RPGfutKnim

— Feedback Labs (@FeedbackLabs) February 28, 2020
Doussouba Konate of @AccountLab Mali and Sanjay Fernandes from @sole_colombia are helping us think through our biases in feedback loops and encouraging us to continue to make efforts to reduce them. #FBLSummit pic.twitter.com/fpOIcKvfcx

— Feedback Labs (@FeedbackLabs) February 28, 2020
Closing plenary brought us all together to create our personal feedback plans describing how we will take our learnings from Feedback+San Juan back home. As one attendee shared, this activity truly embodied our name – creating a true "lab" as we mingled around the room finding connections and making fast connections for future collaboration.   We heard from our attendees some important next steps to connect moving forward, including through LabStorms, discussion groups, and shared projects. Stay tuned! There is so much energy and connection coming out of Feedback+San Juan, we can only imagine the incredible collaborations that will surface as a result.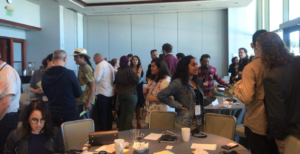 #FBLSummit attendees work on their plans to bring their learnings from the past 3 days back to their own organizations and lives. We are ready to move forward into action! pic.twitter.com/yHQ1D6yk1C

— Feedback Labs (@FeedbackLabs) February 28, 2020
Sharing out our personal feedback commitments! Some amazing connections have been fostered here. #FBLSummit pic.twitter.com/O69BlSiNg2

— Feedback Labs (@FeedbackLabs) February 28, 2020
Thank you to everyone who was at Feedback+San Juan for the powerful three days, and thank you to everyone who was following from afar!