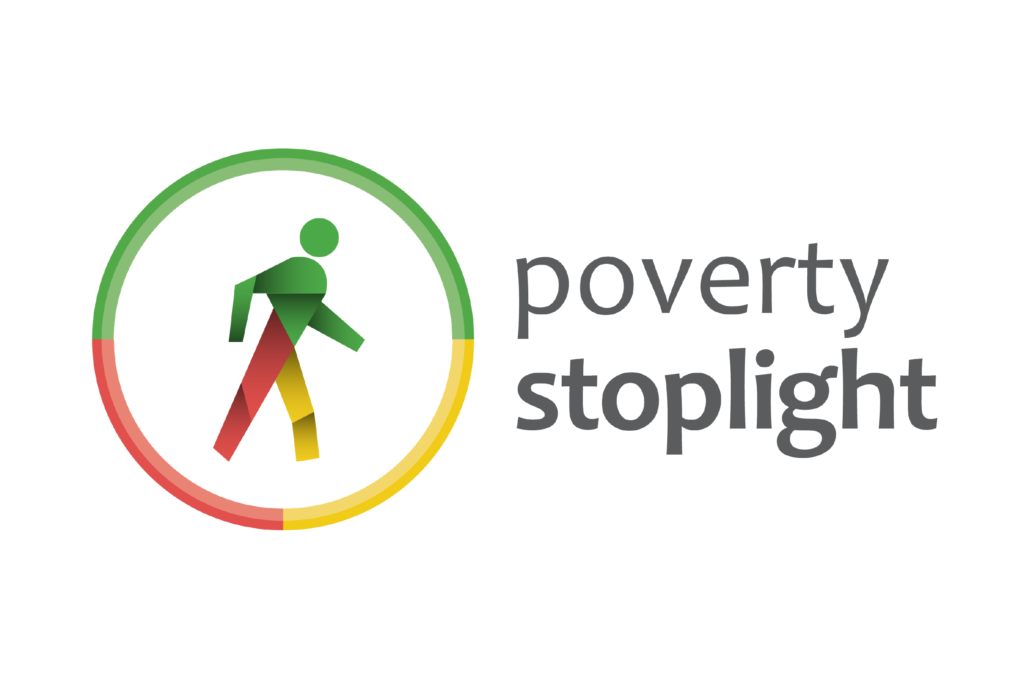 Poverty Stoplight is a self-evaluation survey focused on empowering the potential of families to lift themselves out of poverty. It uses mobile technology and social innovation to help families design their own strategy. To do so, the organization developed a tool that could activate the potential of families and communities to lift themselves out of poverty. The Stoplight uses colors and images to ensure it can reach the majority of their constituent base. Using a technology platform that can run without internet, it starts with a visual self-assessment survey to help families become aware of their situation and notes each poverty indicator as green (no poverty), yellow (poverty), or red (extreme poverty). Out of all indicators marked red or yellow, families select the ones they want to improve first. Families then plan their roadmap for overcoming their weaknesses by prioritizing indicators and turning them into achievements. An integrated intervention model helps families reflect on possible causes for these reds and yellows as a basis to design their own poverty elimination strategy and develop practical solutions to overcome their specific needs and visualize a life where all indicators are one day green.
Electronic surveys, Data Mapping, Roadmap
High tech: Smart phone/tablet apps, requires internet
Low tech: SMS, phone calls, radio, IVR
Multiple Languages, English
"With the Poverty Stoplight we could learn how to save and understand its benefits. Now we know what position we are in. When looking at my Life Map, I see that I'm no longer red or yellow in many things, I'm green and I feel great joy."
 Zelma, South Africa
Small business owner in Cape Town, Clothing Bank client
"It took me 20 minutes to fill in this questionnaire and it has changed my life. I now know what it means not to be poor, and it is not that hard to achieve. A lot of it is in my way of thinking, and I now realize that a big part of getting out of poverty is about making different choices."
Jeremías, Paraguay
Small business owner in the city of Luque, Fundación Paraguaya client
"Our dream is to be able to change the face of philanthropy and the way people are empowered around the world. Because once again, it's not about giving people things, it's about teaching them what they can do for themselves to improve their lives."
Gary, South Africa
The Saville Foundation
Poverty Stoplight can help you in the following stages of your feedback journey:
Direct interaction between facilitator/mentor and beneficiaries. Currently, demand for services not in person one-on-one due to Covid.
Correct implementation models for different types of programs such as in companies, local communities, NGOs, government and beta phasing a free and open model. Users are able to design their "Life Map" which is their roadmap for addressing different aspects of poverty in their life. 
The survey is easy to understand (picture, colors, audio…), it is done through the web or mobile application, beta phase via Whatsapp.
The results are analyzed through a dashboard with Stoplight charts (pie and bar charts of reds, yellows and greens). Then, other demographic information is transferred to Tableau if partners want more visualization tools.
Post-survey communications and follow-up between facilitator and beneficiary, or company coordinator and employees. In a 6-month or 12-month period, the facilitator takes another survey to the family (called a follow-up survey) and they can finally compare and analyze the results of their progress. 
The Poverty Stoplight tool is unique in its characteristic of being directly focused on highlighting and validating the client's or family's perspective. Facilitators and mentors are available throughout the entire process, but the main objective is for families to fill in the survey by themselves, following the methodology of addressing their current situation and empowering themselves.
Method and Tech Requirements
With a web and mobile application that can run without the internet, families self-assess their level of multidimensional poverty by identifying weaknesses and strengths. Then, they design their "Life Map" which is their roadmap for addressing different aspects of poverty in their life. By working with facilitators (mentors), families develop a plan to move their survey results from red and yellow indicators (extreme poverty and poverty) to green (achieved goals).
USD 7,590 (fixed annual membership), it can vary depending on different needs of each partner.
COVID survey is free to try it out (see below!)
Can be used across the globe. It can be implemented via a mobile device on an application or via the web platform; organizations go through a selection process.
Website offered in English and Spanish.
Poverty Stoplight surveys are already adapted in these languages: English, Spanish, Portuguese, French, Swahili, Armenian, Creole (Haitian). The surveys are adapted to another language whenever there is an interested partner from another country.
Case Studies
Read about the impact of feedback around the world and within communities.
Partners
More than 350 organizations in over 25 countries have adapted or implemented the Poverty Stoplight methodology in their programs and projects. Over 200,000 Poverty Stoplight surveys have been administered worldwide. More than 8,000 Paraguayan families surpassed all 50 indicators of poverty and managed to turn green all the yellows and reds of their stoplight.
30,000 Paraguayan families overcame poverty in terms of income generation. 97% of the Paraguayan families exceeded the income poverty line, that is to say, were able to generate enough revenue to cover its poverty gap for each family member.
Featured on the Feedback Labs site
Ready to work with Poverty Stoplight?
Check out their site here or contact Poverty Stoplight here.
The COVID19 Stoplight demo survey is available for anyone in the world who would like to try it! Both in English and Spanish:
   Link: https://demo.povertystoplight.org/login.html
Username: covid
Password: 123456