Eitan Goldberg, IsrAID | August 1st, 2022
---
As the largest humanitarian aid organization in Israel, IsraAID, we work to support people affected by humanitarian crises. We partner with local communities around the world to provide urgent aid, assist in recovery, and reduce the risk of future disasters. 
In so doing we adopt a Communities First approach, collaborating with communities at the deepest level, building on local knowledge, experience, and assets. That's why Communication with Communities (CwC), or building and maintaining feedback loops, is essential to what we do and to who we are. We often see how the collection of feedback and continuous dialogue improves our understanding of local concerns and of what resources and assets a community may have. Such an understanding is essential to achieving our mission. 
In the framework of strengthening our organizational capacities in the field, we engaged our missions around the world in a Call for
CwC Initiatives. Four Country Offices submitted great proposals for the initiation or expansion of CWC activities – in the Bahamas, Kenya & Uganda, Mozambique, and Vanuatu.
We considered these exciting initiatives: An initiative in Mozambique enabling communities to customize their interaction with IsraAID through a feedback box and a secure telephone line; Community events in the Bahamas to provide feedback on the need for and the quality of programs; and Radio Listening Groups in Uganda, informing the ongoing production of radio shows to deliver the most appropriate, suitable, and effective public health and gender-based violence messages.
After a challenging consideration of criteria such as potential contribution to programs, innovativeness, efficiency, and potential for sustainability – we congratulated the Vanuatu mission for winning the Call with innovative and ultimately impactful methodology!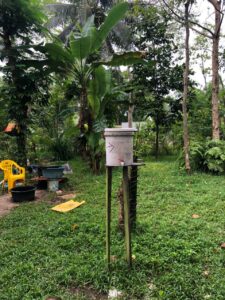 Working with communities on mental health and psychosocial support (MHPSS), a very sensitive topic on the island, the team looked for feedback methods acknowledging the sensitivity which goes beyond "literacy," as the island is one of the most linguistically diverse countries in the world. The team identified that working with a simple Pocket Chart gives an opportunity for people to give confidential feedback through other means. The mission was able to gain reach information through such simple tools – regarding perceptions and feelings about mental health in general and receptiveness to the types of MHPSS support they'll provide. Straightforward findings were communicated to the community, after which a public forum was held to consolidate the dialogue.
Such methods are embedded in Vanuatu's mission's wider feedback loop, which engages volunteer data collectors and incorporates contextualized feedback mechanisms – such as indicating key priorities or pressing concerns using available materials or flashcards with visual symbols. It ran an MHPSS Call center for people affected by COVID, and will conduct a "Lessons Learned" dissemination workshop for government, civil society, and communities to convey pressing themes expressed by callers. It has also used such feedback methods for groundbreaking MHPSS work with women who experienced gender-based violence (GBV) developing a module on the policy and legislation surrounding GBV to be transmitted to the mission's MHPSS volunteers.
By finding creative ways of collaborating and holding dialogue with local communities, opening and leveraging of feedback loops, IsraAID is committed to using, improving, and upscaling feedback loops across our countries of operation.