Now day 1 of Feedback+Jacksonville has come to an end, let's rewind for a bit. We enjoyed seeing all of you – in-person and online – so much, especially after a covid-year without a Summit. There were so many compelling sessions on this first day already. A recap can't possibly highlight all of the great moments we had today, but let's try!
After a delicious breakfast, there was the Welcome and Opening plenary where we heard from our panel about Listening in the Face of Crisis. Moderator Mari Kuraishi, president of the Jessie Ball duPont Fund, initiated the plenary and said 'I believe there's light at the end of the tunnel and this [being here at the Summit together] is the light'. All of our panelists experienced many feedback challenges in their respective fields because of the pandemic. Melanie Patz, Vice President of Community Investment and Impact at Baptist Health; Dr. Diana Greene, Superintendent of Duval County Public Schools and Ariadna Godreau, Executive Director Ayuda Legal Puerto Rico all shared their experiences.
Big thank you to @mashenka @melaniedpatz @ariadnamichelle and @DrDianaGreene for an amazing Opening Plenary and setting us up for a successful next few days of great conversations and peer sessions! #FBLSummit pic.twitter.com/I95l6q2TzT

— Feedback Labs (@FeedbackLabs) March 2, 2022
After that we split up into multiple Breakout Sessions. Four of the sessions were in-person and one was virtual. In the virtual session 'Power to the People: Engaging communities to shape humanitarian action' Tatjana Andrews, Community Engagement Coordinator at the International Rescue Committee, highlighted that 'building trust is a long-term investment'. For many other speakers this turned out to be very recognizable. This shows this is incredibly important in feedback practices.
"Understanding #listening is a process" says @AmDavid64634469 of @Global4Children at the Centering the Community in Shifting Power session where they discussed how the community has changed the way they view education. #FBLSummit pic.twitter.com/1JDU4ZQUL0

— Feedback Labs (@FeedbackLabs) March 2, 2022
"You get the feedback, you make the change, you overcommunicate the change, and then you ask 'What's next?'" @MayoClinic at the EverybodyIN for Change session on #ListeningforaChange. #FBLSummit pic.twitter.com/nLiFDugHtU

— Feedback Labs (@FeedbackLabs) March 2, 2022
What followed was a lunch break with networking options for the in-person attendees and a Lunch Plenary which highlighted how feedback can support radical change. Lindsay Church, Executive Director at Minority Veterans of America and Moné Holder, Senior Director of Advocacy & Programs at Florida Rising kicked off the plenary by presenting their organizations and starting a conversation afterwords. After that Alison Carlman, Director of Evidence + Learning GlobalGiving and Allana Forté, Senior Vice President at Jacksonville University did the same thing and joined the conversation as well. We got some amazing insights out of it! You can rewatch the entire plenary through our Vimeo channel.
"Putting one minority on a board or panel is just tokenism. It does nothing to build power." A powerful quote from @lkmchurch of @MinorityVets during the #FBLSummit Lunch Plenary.

— Feedback Labs (@FeedbackLabs) March 2, 2022
Allana Forté of Jacksonville University and @acarlman of @GlobalGiving discuss the the challenges they've faced and strategies for shifting control over to communities while creating space for more inclusive #feedback. #FBLSummit pic.twitter.com/5b8rNPOedz

— Feedback Labs (@FeedbackLabs) March 2, 2022
In the afternoon, it was time for our LabStorms. With two LabStorms on-site, two off-site and two virtual ones, there were plenty of options. Below there's a beautiful quote from Shawana Brooks' LabStorm we don't want you to miss.
"It's important to give people their flowers while they are alive because they are doing great work." An inspirational quote from Shawana Brooks of Moving the Margins at the Acknowledging Adversity through Art LabStorm. #FBLSummit pic.twitter.com/2tjK4MnRZw

— Feedback Labs (@FeedbackLabs) March 2, 2022
The attendees who chose to follow the off-site LabStorm of Jacksonville Historical Society got a tour of the Historic Merrill House so they had a good idea of what the organization was doing before diving into the feedback challenges during the LabStorm.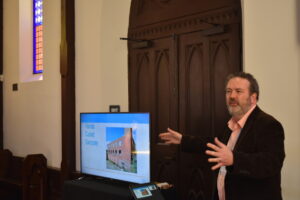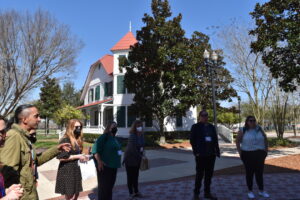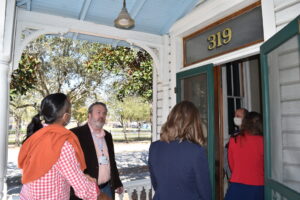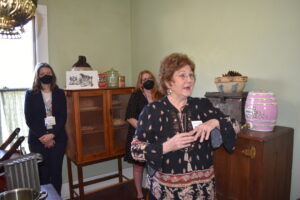 To finish the day we held a reception where attendees had the opportunity to get to know each other a bit better. There was a fun networking activity where everyone got a sticker on their name tag and had to find a person with the same sticker, their so-called 'soulmate'. Even if you didn't end up with your 'soulmate', everyone had a great time trying to find that person. Anyone who was up for it, also got to discover downtown Jacksonville through the Art Walk.
We truly loved every minute of today and we're looking forward to more interesting sessions tomorrow. See you then!