---
Effective communication is the single most important factor when it comes to collecting feedback. LabStorms are usually between an organization seeking advice on how to improve their feedback practices and a group of feedback practitioners. But what happens when constituents participate in LabStorms?
This was the highlight of the Feedback+San Juan LabStorm with Jóvenes de Puerto Rico en Riesgo. Jóvenes de Puerto Rico en Riesgo is a Puerto Rican-based non-profit organization that has worked on prevention and positive youth development since 1996. Through a combination of activities – peer mentoring programs, one-on-one mentoring programs, academic support centers, and leadership and service programs – Jóvenes de Puerto Rico en Riesgo supports youth at risk to become community leaders.
Jóvenes de Puerto Rico en Riesgo hosted a LabStorm to discuss how to collect feedback from students and community members and strengthen their community leadership work, as well as staying connected with alumni from the program and aiding them in their leadership journey. Luckily, Jóvenes de Puerto Rico en Riesgo was able to bring some of the youths they work and have worked with to the Labstorm. This way the organization was able to get some authentic feedback directly from the people who it would affect the most. Here's what the youth participants had to say.
Ask youth first. Jóvenes de Puerto Rico en Riesgo was looking to learn whether their programs were producing the desired outcomes. Current and former participants of the program who were present in the Labstorm suggested that asking for feedback from constituents at all stages of a program – from design, to development, to delivery – is very important. Honest and non-judgmental conversations with youth can be very insightful, after all, these are the people an organization is looking to serve.

Youth also stated the importance of asking for feedback on issues the organization actually has the capacity to change, and being willing to adapt and change based on the feedback you get – even for a program you like. Though youth might love the programs Jóvenes offers, some programs may not get to the root of the issue. Youth can help program leaders see opportunities for improving beloved programs, and asking the youth themselves to get these insights is pivotal.

 
Storytelling. Jóvenes de Puerto Rico en Riesgo was looking for a way to showcase to their stakeholders the efficacy of their programs. Labstorm attendees suggested for the organization to experiment with interviewing stakeholders from across the community. This meant asking constituents what their most significant change has been thanks to the program, recording their stories, looking for patterns across the stories, and then doing an analysis of what the program has achieved through the stories. In doing so, the organization can have something compelling to share with stakeholders. This would be a great opportunity for marketing and fundraising.
Staying connected. Staying connected to former constituents is challenging yet infinitely rewarding for any organization looking to enact social change. Jóvenes de Puerto Rico en Riesgo was having difficulty in understanding why some of their past participants did not go on to become leaders in their communities. Labstorm attendees suggested that the organization interview people from past generations of their various programs who can tell Jóvenes de Puerto Rico en Riesgo about their experiences and what their lives have been like following the program. It was suggested that Jóvenes leverages the inherent power of the program, by including current participants in this process. In fact, some youth participants offered to help with collecting feedback and figuring out a feedback strategy for this process. Getting current Jóvenes involved in the process could create a sense of ownership and community with the graduates.
This LabStorm reminded us the value of including those who are at the heart of social change programs in the feedback process – even when getting feedback on how to do feedback. LabStorms usually look to feedback experts to share their thoughts, but including direct stakeholders in this LabStorm made all the difference. Do you have experience with involving stakeholders to build feedback processes or collect feedback stories? If so, leave a comment below, or send a note to [email protected].
---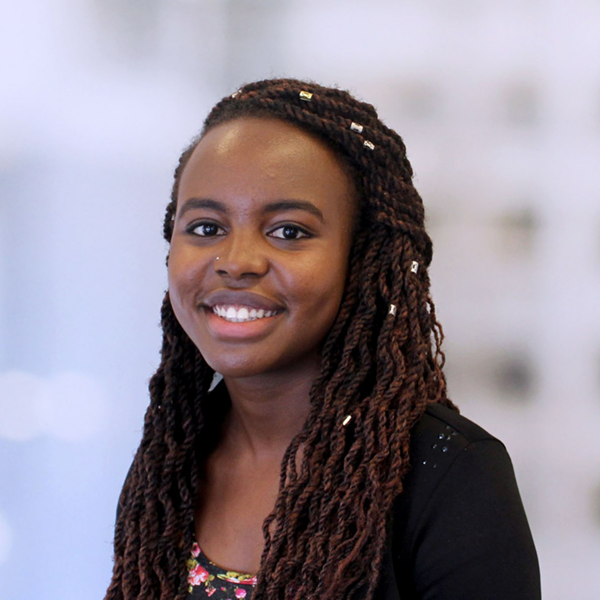 Kyende Kinoti
Kyende was the 2019 summer Strategy and Fundraising Intern at Feedback Labs. She is originally from Nairobi, Kenya and has also lived in Johannesburg, South Africa. Having spent the majority of her life on the African continent, Kyende has borne witness to the paternalism that is often found within development and aid projects being conducted on the continent. In these cases, she has identified that the lack of two-way communication and closed feedback loops were causing more harm than good to target communities, hence, this is what drew her to the mission of Feedback Labs. Kyende is currently a senior Morehead-Cain scholar at the University of North Carolina at Chapel Hill. During her final year at Carolina she is writing a senior thesis on Decolonizing Development through a Paradigm Shift in Epistemology and Ontology, therefore, her internship with Feedback Labs plays an important role in framing her research. In her spare time Kyende enjoys creative writing, blogging, reading thrillers, being outdoors, and playing football (soccer, not American football).