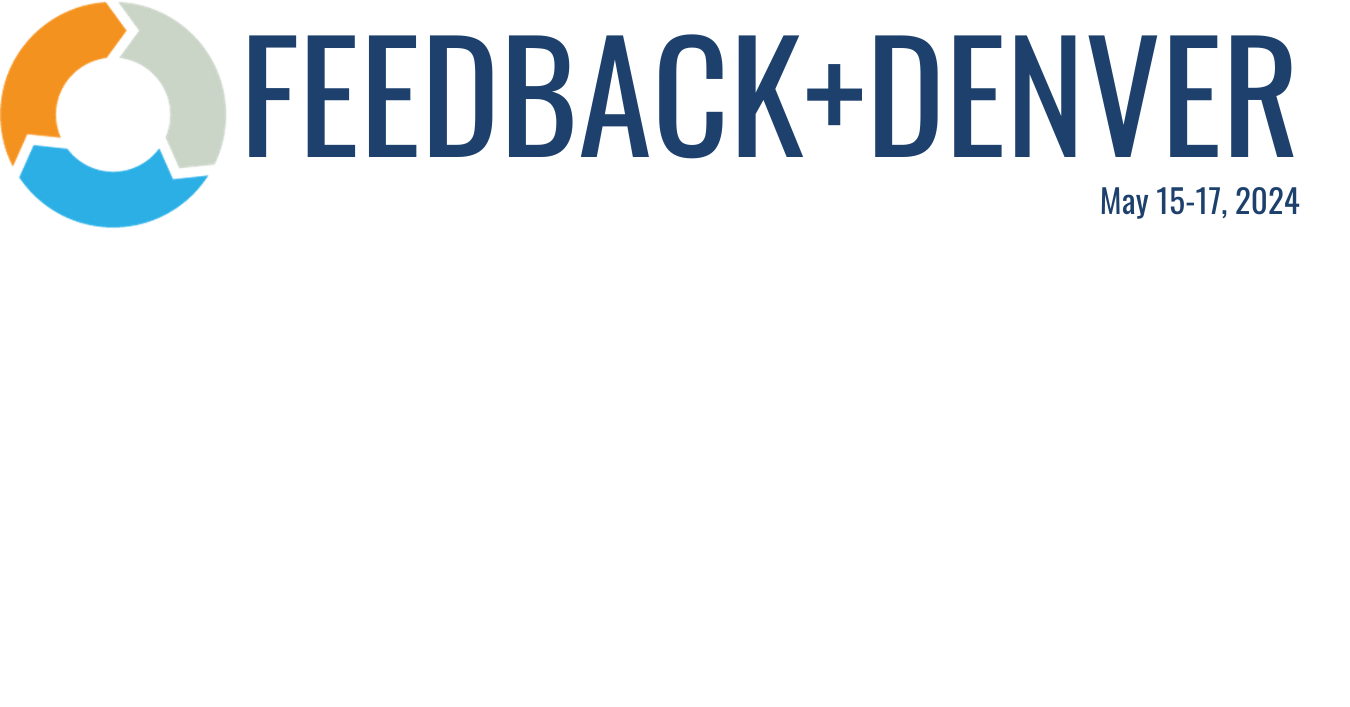 In 2024, we celebrate ten years of Feedback Labs with the theme "Feedback in Community." This year's Summit will involve those new and old as we define – and redefine – what it means to listen and act on feedback in community. Join us as we reimagine what high-quality listening and acting on feedback can accomplish, together with those at the heart of our work.
Stay tuned! Registration opens in October 2023.
Thank you for joining us! Check out this recap from the Summit last year.
Feedback+Denver session proposals are due November 1!
We are currently accepting breakout session proposals for Feedback+Denver, and would love to hear your ideas!  We are looking for people who have a great story, idea, or case study to share related to high-quality listening and feedback, regardless of title or whether they have formally presented at a conference before. Speakers who are chosen to present will receive a 30% discount on their Summit ticket. 
Proposal applications are due November 1, 2023, and everyone will be notified of final selections by January 18, 2024. Applicants are encouraged to reach out to our team at [email protected] for more information, questions, or concerns.
Are you interested in becoming a sponsor for Feedback+Denver? Sponsors help to keep the cost of the Summit low and accessible for people to attend no matter where they are coming from. We'd love to work together with you to make listening and feedback the norm across the nonprofit and philanthropic sectors.
Let's talk! Download our FB+Denver Sponsorship packet and email Britt at [email protected] so we can learn more about your interest.
Tracks
Learning in Community – Too often, organizations conduct listening and feedback activities in a silo. While they are learning from community, that learning isn't always with community or shared across community. This track will explore how we can learn together in community through new ways of understanding through listening, sharing feedback data across organizations, and collective action.
Geography in Community – Often, our communities are defined and delineated by geographic lines. However, sharing space doesn't mean people within a physical space share the same experiences, needs, or opinions. Geography and the way power is exercised in decisions over resource use can put people in conflict with each other, as we've seen in issues that arise around the rural/urban divide, housing crisis, and climate change. At the same time, geographic boundaries can also impact how listening and feedback conversations are structured and whose voices are heard and prioritized. This track explores how feedback and listening can help us understand and address these conflicts when they come up.
Giving in Community – A shift in how individual and institutional supporters interact with communities has been growing over the last few years. The philanthropic sector has been experimenting with new ways to cede power to communities at the heart of their work through practices such as participatory grantmaking, listening tours, and advisory committees. At the same time, long-standing ways of giving that allow communities to find and carry out their own solutions, such as mutual aid, crowdfunding, and community philanthropy, have gained more prominence. This track will explore how listening and acting on feedback is supporting a shift toward more responsive giving to and within communities.
Get our official event app
For Blackberry or Windows Phone, Click here
For feature details, visit
Whova
Feedback+Denver Crash Course
Are you new to facilitating feedback in your work? Or looking to brush up on your feedback practices before the Summit? Then join us for the one-day Feedback Crash Course in Denver!
This hands-on training will equip you with the knowledge, skills, and tools you need to listen to and respond to feedback from the communities at the heart of your work. Throughout the day, you will hone your understanding of the phases of the feedback loop–buy-in, design, collect, analyze, dialogue, and course correct–while tackling your own feedback challenges. Participants will have the opportunity to gain mentorship from experienced practitioners and collaborate with their peers.
By the end of the day, participants will be able to:
Articulate the value of feedback and describe each of the stages of the loop;

Design a concrete, minimum viable, unflashy closed feedback loop; and

Feel like they can really get started!
The Crash Course will take place on Tuesday, May 14, 2024, 9 am – 5 pm. A light breakfast and lunch will be provided.

Feedback Labs is a nonprofit that believes people are the best experts in their own lives and should ultimately drive the policies and programs that impact their lives. Launched in 2014 with eight founding organizations, Feedback Labs is now joined by hundreds of organizations that represent nonprofits, foundations, local governments, and aid agencies. These members are working together to build a norm around listening and acting on feedback from those we seek to serve. The feedback community believes that when done right, listening and responding to feedback can be a strong force for increased equity in the world and getting better results to improve people's lives.
Feedback Labs will host the 2024 Summit at The Tivoli, part of the Auraria Higher Education Center in Denver, Colorado. The Tivoli, a Denver landmark since 1870, is listed on the National Register of Historic Places and serves as a Student Union to three separate and distinct institutions: Community College of Denver, Metropolitan State University of Denver, and the University of Colorado Denver.  All three institutions are officially designated Hispanic-serving institutions, serving nearly 38,000 students a year. Feedback Labs is thrilled to bring together the feedback community in a space that values intellectual pursuit and increased access to education for all.
The Tivoli
1068 9th Street Park
Denver, Colorado 80204
ahec.edu/
The SpringHill Suites Denver Downtown, owned by MSU Denver, serves as a true learning laboratory. Students receive hands-on hospitality training working throughout the hotel. Collaborative tours for students entering the field of hospitality provide real life insight into the field, and hotel staff teach at the university offering guidance on how to work in hospitality. With 120 art pieces throughout the hotel, all crafted by MSU students, alumni, and faculty, The SpringHill Suites is a unique property offering a local, community driven feel. 
All hotel profits go back to the University to fund student scholarships and programs.
You can book your room here.
SpringHill Suites Denver Downtown
We honor and acknowledge that the Auraria Higher Education Center is on the traditional territories and ancestral homelands of the Cheyenne and Arapahoe Nations. This area was also the site of trade, hunting, gathering, and healing for many other Native Nations: The Lakota, Ute, Kiowa, Comanche, Apache, Shoshone, and others.
We recognize the Indigenous peoples as the original stewards of the land, water, plants, and animals who called this place home.  As these words of acknowledgment are spoken and heard, the ties that these nations have to their traditional homelands are renewed and reaffirmed. Let us also acknowledge the painful history of genocide and forced removal. We respect the many diverse Indigenous peoples still connected to this land on which we gather. We pay our respect to them and give thanks to all Tribal Nations and the ancestors of this place.
We also want to recognize the community and families of Auraria who lived, worked, and worshipped at Auraria.  The decision to provide this sacred land in order to create a permanent home for Community College of Denver, Metropolitan State University of Denver, and University of Colorado Denver was a difficult one.  Let us honor the families of Auraria and their generous contribution, which made this public campus of higher education possible to benefit so many.
Must I attend all days of the event?
You are more than welcome to attend part of the Feedback+Denver Summit if you are unable to stay for all days. However, please note that we are unable to offer single-day or discounted tickets for attending only part of the event. We strongly recommend full attendance as attendees will deepen their understanding and skills regarding feedback as the Summit progresses.
Do you offer refunds?
Upon written request, Feedback Labs can offer to refund tickets minus processing fees by Stripe until April 1, 2024. After that date, we will not offer refunds but will be happy to work with you to transfer your ticket to another participant from your organization.
Can I present online/using a hybrid model?
Feedback+Denver will be an entirely in-person event. If you plan to attend or present, you must do so in person in Denver.
Will I receive a confirmation for my registration?
Yes, you should receive an email confirmation soon after registering.
Is there a dress code?
Similar to most professional conference dress codes, Feedback Labs suggests dressing in smart or business casual attire during one's attendance at the Summit.
Will I need to rent a car?
Renting a car will not be necessary unless you'd like an opportunity to explore the greater Denver area on your own. The conference hotel where Feedback+Denver attendees receive a discounted rate is a short walk to the venue location. Transportation will be provided for any off-site events. Shuttles, taxis, and Ubers/rideshare options are available to take you between the airport and the hotel.
Are there nearby hotels?
This year, Feedback+ has partnered with the SpringHill Suites Denver Downtown to provide accommodation for attendees. The hotel is a short walk from the Feedback+ Summit venue. However, attendees are welcome to stay at other nearby hotels.
Will there be a discounted rate for nearby accommodations?
Feedback+ has partnered with SpringHill Suites Denver Downtown to provide a discounted rate. You can book your room(s) here. Booking before April 13th will qualify attendees for the group rate of $219 per night.
Can I bring family/a partner with me to share my hotel room?
You are welcome to bring along guests to stay with you in the room(s) you book at The SpringHill Suites as long as you are respecting the limit of guests per room communicated by the hotel. Please note: guests must purchase a ticket in order to attend Feedback+Denver programs.
What are the Covid-19 policies?
Feedback Labs is committed to the well-being of its community. To ensure the health and safety of all participants, masks, hand sanitizer, and testing resources for COVID-19 will be available at the conference venue. Additionally, we will work to have ample space for social distancing and outdoor sessions when possible. Participants are not required to show proof of vaccination and masks are optional. 
We will continue to monitor and update safety precautions for Feedback+Denver regularly informed by guidance from the CDC, local public health authorities, the venue, and participants. We reserve the right to modify these policies at any time.
Who should I contact if I need special accommodations?
We are happy to assist any attendees who may need different accommodations. Please reach out to [email protected] to let us know how we can help make your experience most accessible and comfortable.
Who should I contact if I have additional questions?
If you have any additional questions that might not have been answered here, please contact us at [email protected]