Yvonne Petrasovits
Doorways of NWFL
Florida, USA
As the Director of Doorways of North West Florida, Yvonne Petrasovits is focused on ending homelessness in a six-county area of rural Northwest Florida. Yvonne is proud of her work coordinating a Community Recovery Center, but knows that there is lots more to be done following Hurricane Michael – as a result of the storm, 22,000 residents were displaced. Doorways collaborated with seven other nonprofits to assist survivors in putting their lives back together through rebuild efforts, shelter, relocation, counseling and whatever they might need to move forward.
Yvonne is also a parent and grandparent and she enjoys visiting with family and traveling to new places. She is thrilled to be part of the 2019-2020 class of Feedback Fellows and is excited to share her knowledge on involving people in their own recovery and incorporating people's needs into their action plans. She is hoping to learn from all of the other Fellows, and foster meaningful conversations outside of the daily grind.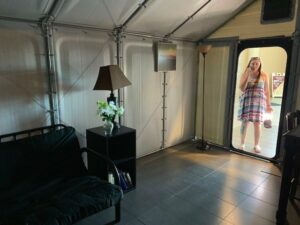 Doorways educates, advocates, and provides housing and supportive services to eliminate homelessness in our communities.